Morbidity Associated with Vaginal and Abdominal Hysterectomy in a Northern Nigerian Hospital
Keywords:
Vaginal and abdominal hysterectomy, morbidity
Abstract
Background: hysterectomy is one of the most common surgeries performed in gynaecological practice. It can be carried out either by vaginal or abdominal route. We compared the complications associated with the two types of surgeries.
Methods: A retrospective study involving all patients that had vaginal and total abdominal hysterectomy for benign conditions between January 2002 and December 2009 (8 years) at the Federal Medical Centre Birnin- Kebbi, Kebbi State, Nigeria
Results: During the period,493 major gynecological operations were performed in the health centre with vaginal and total abdominal hysterectomy constituting 48 (9.7%) and 69 (14.0%) of the surgeries respectively. The only indication for the former was uterine prolapse while the main indication for the latter was uterine fibroid (82.6%). Excessive primary haemorrhage was statistically significantly higher in vaginal hysterectomy compared with abdominal hysterectomy (45.8% versus 17.4%; p-value <0.05). Other complications did not yield any statistically significant difference : bladder injury (8.3% versus 3.0%), bowel injury (0% versus 3%), ureteric injury (0% versus 1.4%), wound infection (4.2% versus 8.7%) and maternal death (2.1% versus 3.0%). The average duration of hospital stay in vaginal hysterectomy was 4.2 ± 0.6 days compared to 7.8 ±1.2 days in the abdominal procedure (p<0.05).
Conclusion: Excessive primary haemorrhage was significantly commoner in vaginal hysterectomy compared to its abdominal counterpart, however, other complications were not. Furthermore, the former had the advantage of shorter duration of hospital stay compared to the latter.
References
Easterday CL, Grimes DA, Riggs GA. Hysterectomy in United States. Obstet. Gynaecol 1983; 62 : 203-12.
Arowojolu AO. Hysterectomy. In : Okonofua FE and Odunsi K (ed.s)Contemporary Obstetrics & GynaecologyforDeveloping Countries, Women's Health & Action Research Centre, 2003 :227-42.
Dicker RC, Spellman JR, Summit RL. Out patient vaginal hysterectomy as a new trend in gynaecology. Bri J Obstet Gynaecol 1995; 62 : 810-4.
Khan A. Why not vaginal route for hysterectomy? Pak J Gynaecol 1997; 10 : 11-7.
Juha M, Jari J, Candido T, Eija T, Pentti KH et al. Morbidity of 10,110 hysterectomies by type of approach. HumanRep2001; 16(7):1-14.
Dicker RC, Greenspan JR, Strauss LT, et al. Complications of vaginal and abdominal hysterectomy among women of reproductive age in the United States. The Collaborative Review of sterilization. Am J Obstet Gynaecol 1982; 144:841-8.
Umeora OUJ, Onoh RC, Eze JN, Igberase. Abdominal versus vaginal hysterectomy : appraisal of indications and complications in a Nigerian Federal Medical Centre. Nepal J Obstet Gynaecol 2009; 4(1) : 1-4.
Dorsey JA, Steinberg EP, Holtz PM. Clinicl indications for hysterectomy route; patient characteristics or physician preference? Amer J Obstet Gynaecol 1995; 173 : 1452- 60.
Kayastha S, Tuladhar H. Vaginal versus
abdominal hysterectomy. Nepal Med College J 2006; 8 (4) : 259-62.
Benassi L, Rossi T, Ricci L, Bedocchi L, Galanti B, Vadora E. Abdominal or vaginal hysterectomy for enlarged uteri : a randomized clinical trial. Am J. Obstet Gynaecol 2002; 187 (6) :1561-5.
Singh, Bansal S. Comparative study of morbidity and mortality associated with non- descent vaginal hysterectomy and abdominal hysterectomy based on ultrasonographic determination of uterine volume. Int Surg 2008; 93(2) :88-94.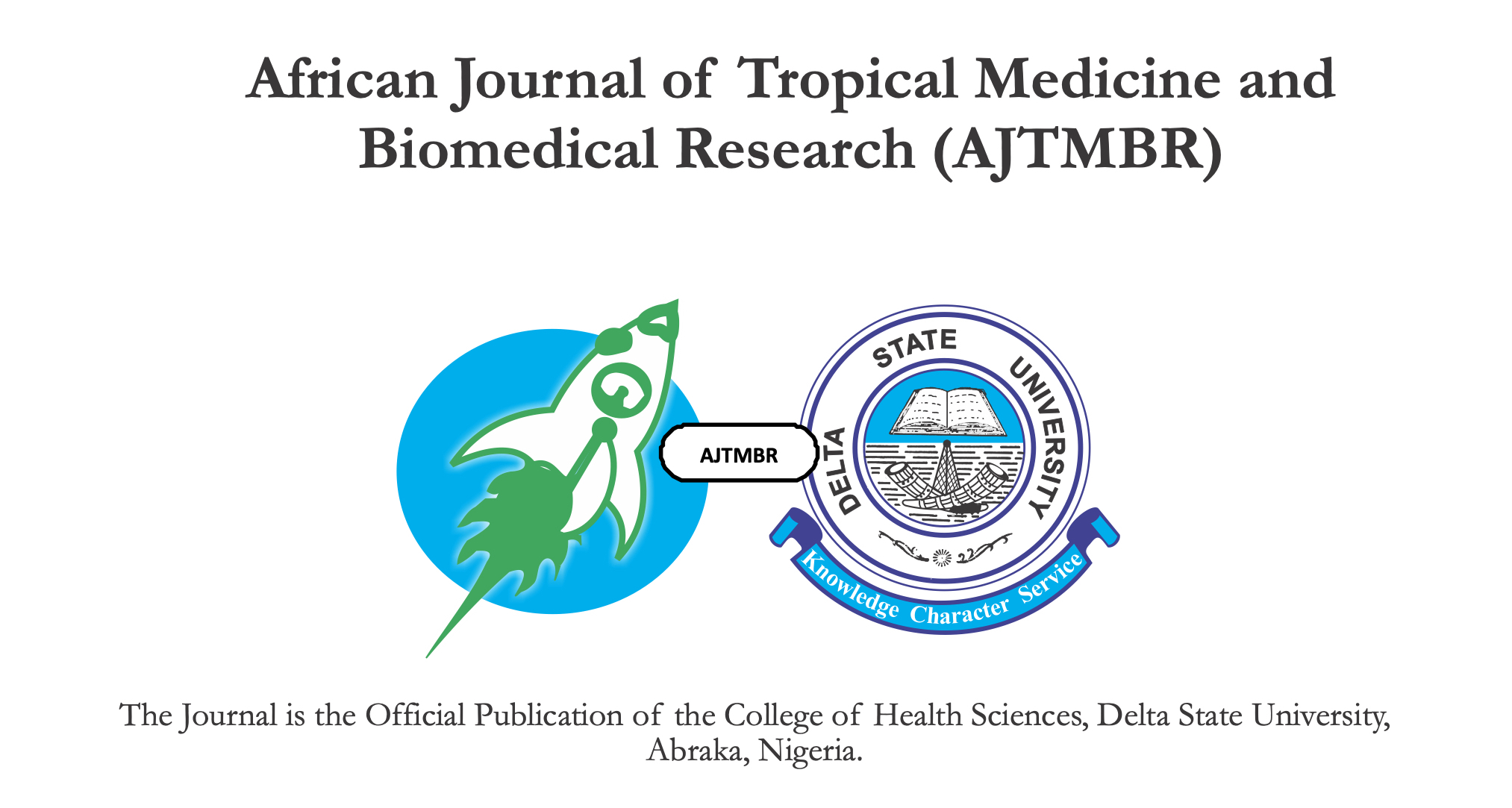 Downloads
How to Cite
1.
Nwobodo E .I., Oyetunji JA. Morbidity Associated with Vaginal and Abdominal Hysterectomy in a Northern Nigerian Hospital. AJTMBR [Internet]. 2020 Nov. 3 [cited 2023 Oct. 1];1(3):39-42. Available from: https://ajtmbr.org.ng/index.php/home/article/view/15
Section
ORIGINAL ARTICLES
License
This work is licensed under a Creative Commons Attribution-NoDerivatives 4.0 International License.
The data collected from registered and non-registered users of this journal falls within the scope of the standard functioning of peer-reviewed journals. It includes information that makes communication possible for the editorial process; it is used to informs readers about the authorship and editing of content; it enables collecting aggregated data on readership behaviors, as well as tracking geopolitical and social elements of scholarly communication.
This journal's editorial team uses this data to guide its work in publishing and improving this journal. Data that will assist in developing this publishing platform may be shared with its developer Public Knowledge Project in an anonymized and aggregated form, with appropriate exceptions such as article metrics. The data will not be sold by this journal or PKP nor will it be used for purposes other than those stated here. The authors published in this journal are responsible for the human subject data that figures in the research reported here.
Those involved in editing this journal seek to be compliant with industry standards for data privacy, including the European Union's General Data Protection Regulation (GDPR) provision for "data subject rights" that include (a) breach notification; (b) right of access; (c) the right to be forgotten; (d) data portability; and (e) privacy by design. The GDPR also allows for the recognition of "the public interest in the availability of the data," which has a particular saliency for those involved in maintaining, with the greatest integrity possible, the public record of scholarly publishing.