Extramedullary Plasmacytoma of the Right Maxillary Sinus -
A Case Report
References
Uppal HS, Harrison P. Extramedullary
Plasmacytoma of the Larynx Presenting
with Upper Airway Obstruction in a
Patient with longstanding IgD myeloma.
Journal of Laryngology and Otology .
; 115: 745-746.
Y a c o u b G S , D u b a y b o B A ,
Plasmacytoma and upper airway
obstruction. Am J Otolaryngol 1999; 20:
-9.
Wiltslaw E. The Natural History of
Extramedullary Plasmacytoma and its
relation to Solitary Myeloma of Bone and
Myelomatosis. Medicine 1976; 55:217-
Tesei F, Caliceti U, Sorrenti G, Canciulla
A, Pile S, Nev S. Extramedullary
Plasmacytoma of the Head and Neck: a
series of 22 cases. Acta Otorhinolaryngol
ital 1995; 15: 437-42
Wax MK, Yun KJ, Omar RA.
Extramedullary Plasmacytoma of the
Head and Neck. Otolaryngol Head Neck
Surgery 1993; 109: 877-85.
Kamal-Eldin AA, Ibrahim AG, Yousef M,
Nawal A, Usma MR, Extramedullary
Maxillary sinus Plasmacytoma: a case
report and clinical and radiological
features. The Internet Journal of
Otolaryngology 2008;8:1
Martinson F. and Pulveitaff RJU. Clinical
and Live Cell Study of Extramedullary
Plasmacytoma of the Upper Respiratory
Tract. The British Journal of Surgery
; 54: 8-14.
Batsakis JG. Plasma Cell Tumors of the
Head and Neck Ann Otol Rhinol laryngol
; 92: 311-3
Jyothirmayi R, Gangsdharan VP,Nair
MK, Rajan B. Radiotherapy in the
Treatment of Solitary Plasmacytoma.
British Journal of Radiology 1997;70:511-
Graca MD, Ola L, Katherine AM,
Rochelle EC, Martha SL, Susan SD.
Plasmacytoma of Bone, Extramedullary
Plasmacytoma and Multiple Myeloma:
Incidence and survival I the United States,
9 9 2 - 2 0 0 4 . Britis h J o u r n a l o f
Haematology 2009;144:86-94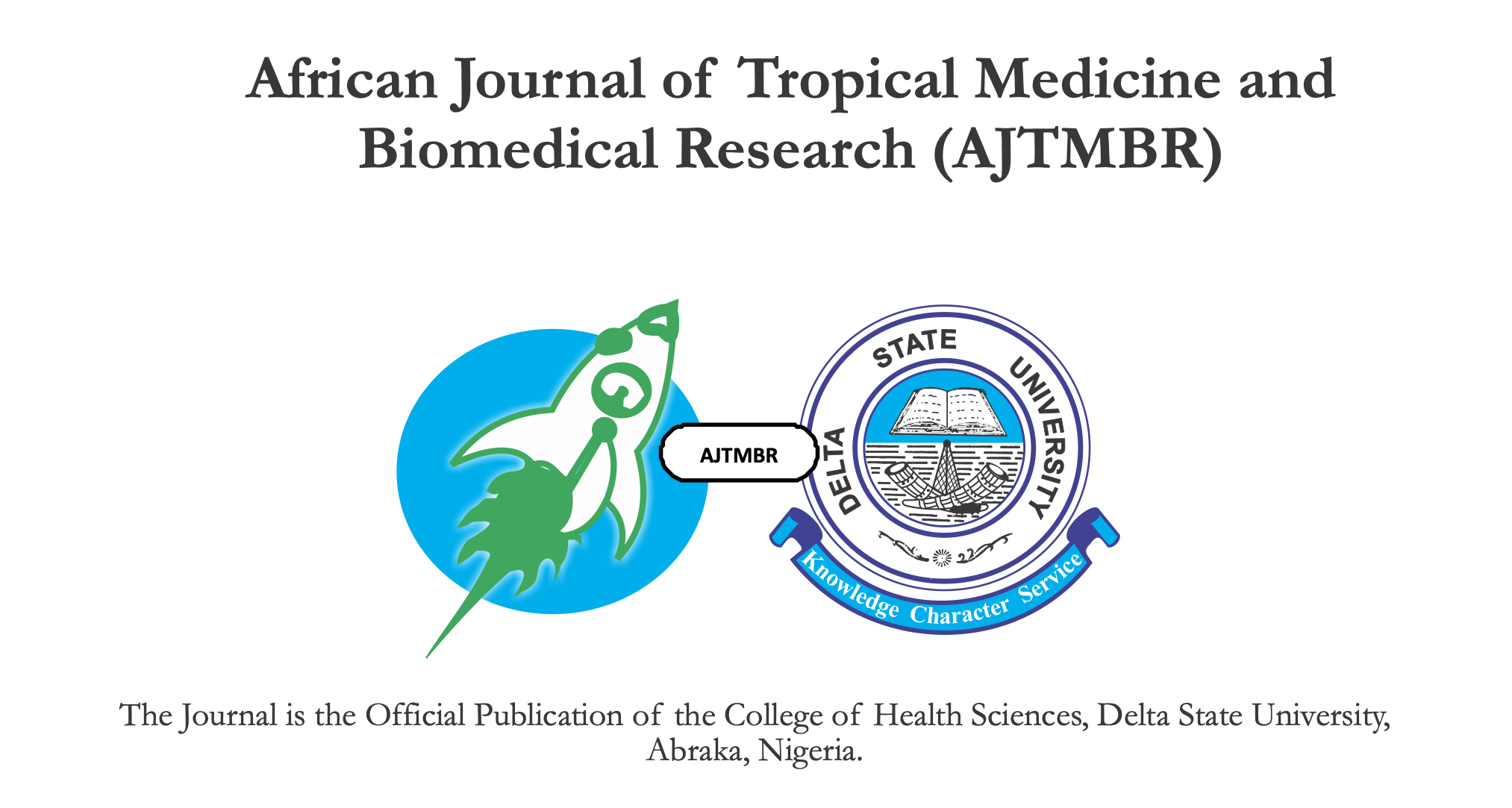 Downloads
How to Cite
1.
Okolugbo N. Extramedullary Plasmacytoma of the Right Maxillary Sinus - : A Case Report. AJTMBR [Internet]. 2012 Sep. 1 [cited 2023 Mar. 24];1(4):114-6. Available from: https://ajtmbr.org.ng/index.php/home/article/view/36
License
This work is licensed under a Creative Commons Attribution-NoDerivatives 4.0 International License.
The data collected from registered and non-registered users of this journal falls within the scope of the standard functioning of peer-reviewed journals. It includes information that makes communication possible for the editorial process; it is used to informs readers about the authorship and editing of content; it enables collecting aggregated data on readership behaviors, as well as tracking geopolitical and social elements of scholarly communication.
This journal's editorial team uses this data to guide its work in publishing and improving this journal. Data that will assist in developing this publishing platform may be shared with its developer Public Knowledge Project in an anonymized and aggregated form, with appropriate exceptions such as article metrics. The data will not be sold by this journal or PKP nor will it be used for purposes other than those stated here. The authors published in this journal are responsible for the human subject data that figures in the research reported here.
Those involved in editing this journal seek to be compliant with industry standards for data privacy, including the European Union's General Data Protection Regulation (GDPR) provision for "data subject rights" that include (a) breach notification; (b) right of access; (c) the right to be forgotten; (d) data portability; and (e) privacy by design. The GDPR also allows for the recognition of "the public interest in the availability of the data," which has a particular saliency for those involved in maintaining, with the greatest integrity possible, the public record of scholarly publishing.