Profile of Blood Pressure Control and Other Comorbidities Among Medical Outpatients Attending A University Teaching Hospital, South-South Nigeria
Abstract
Background: Hypertension is the commonest non-communicable diseases worldwide. Patients suffering from this condition may also have other co-morbidities.
Aim: To show the profile of blood pressure control among patients attending the Consultant Medical Out-Patient Department (MOPD).
Methodology: A retrospective descriptive study of MOPD clinic attendees with hypertension. Patients aged 18 years and above who had both their first and sixth clinic visits between November 2012 and November 2013 were recruited for the study.
Results: A total of 150 subjects were enrolled with a mean age 58.3±13.0 years, and 68 (45.3%) were males. The mean SBP, DBP and pulse rates at first and sixth visits were 145.8(±23.3) mmHg, 87.8(±14) mmHg and 83.1(±15.1) bpm, and 138.0(±22.9) mmHg, 84.5(±12.9) mmHg and 80.9(±13.4) bpm, respectively. By the third clinical visit, 67% of the study population had attained target blood pressure control.
One hundred and fourteen (76.0%) of the study population had co-morbidities and complications (diabetes, dyslipidemia, heart failure, hypertensive heart disease). All the patients with dyslipidemia were placed on lipid lowering drugs but no repeat test was done during the study period. About 7.3% of the population had adverse drug reactions such as headaches, dizziness, generalized body pains and nausea.
Conclusion: Only 67% of the subjects attained target blood pressure control by the third visit. There is need for more aggressive approach in managing patients with hypertension. It is important to document adverse drug reactions and follow the recommended pharmacovigilance protocol.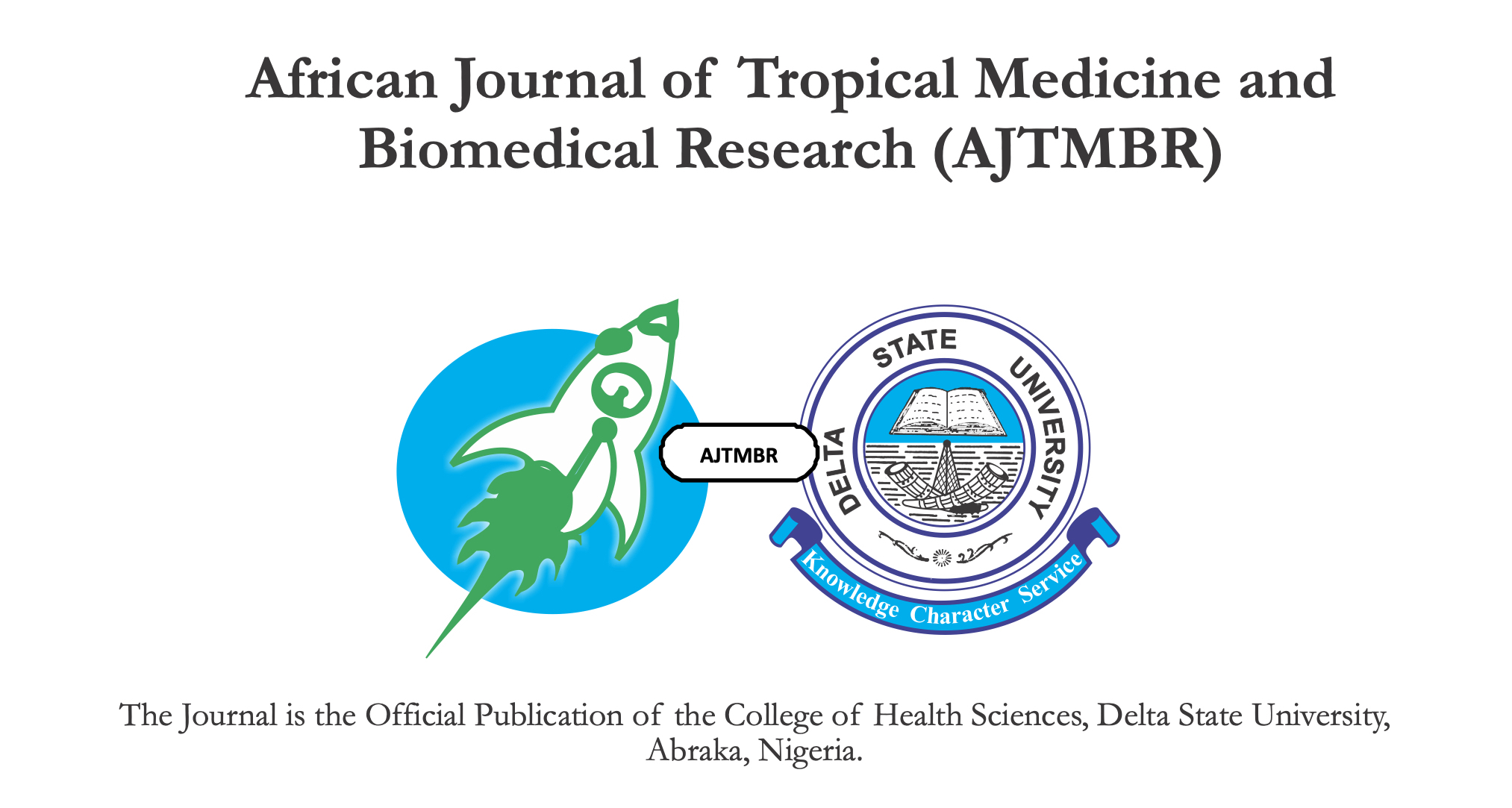 Downloads
How to Cite
Umuerri, E. M. ., Ohaju-Obodo , J., Aiwuyo , H., & Aigbe, F. (2019). Profile of Blood Pressure Control and Other Comorbidities Among Medical Outpatients Attending A University Teaching Hospital, South-South Nigeria. African Journal of Tropical Medicine and Biomedical Research, 4(2), 51–61. Retrieved from https://ajtmbr.org.ng/index.php/home/article/view/42
Section
ORIGINAL ARTICLES
License
This work is licensed under a Creative Commons Attribution-NoDerivatives 4.0 International License.
The data collected from registered and non-registered users of this journal falls within the scope of the standard functioning of peer-reviewed journals. It includes information that makes communication possible for the editorial process; it is used to informs readers about the authorship and editing of content; it enables collecting aggregated data on readership behaviors, as well as tracking geopolitical and social elements of scholarly communication.
This journal's editorial team uses this data to guide its work in publishing and improving this journal. Data that will assist in developing this publishing platform may be shared with its developer Public Knowledge Project in an anonymized and aggregated form, with appropriate exceptions such as article metrics. The data will not be sold by this journal or PKP nor will it be used for purposes other than those stated here. The authors published in this journal are responsible for the human subject data that figures in the research reported here.
Those involved in editing this journal seek to be compliant with industry standards for data privacy, including the European Union's General Data Protection Regulation (GDPR) provision for "data subject rights" that include (a) breach notification; (b) right of access; (c) the right to be forgotten; (d) data portability; and (e) privacy by design. The GDPR also allows for the recognition of "the public interest in the availability of the data," which has a particular saliency for those involved in maintaining, with the greatest integrity possible, the public record of scholarly publishing.