Giant Myoepithelioma of the Soft Palate: Report of a case in a Teenage girl
Keywords:
Myoepithelioma, Plasmacytoid, Salivary gland
Abstract
Background: Giant myoepithelioma is a tumour arising from epithelial cells of mostly the major salivary glands. It is rare in the minor salivary glands .It constitutes less than 1% of salivary gland lesions. It is usually asymptomatic but with increase in size it can elicit pressure and obstructive symptoms as reported in our case.
Case Presentation: This 13-year-old girl presented with swelling on the soft palate for five years. Symptoms included dysphagia, hyper nasal speech, snoring and occasional sleep apnea for two years prior to presentation. Intraoral examination revealed an oval shaped swelling located at the posterior end of the hard palate extending downward and backward pressing on the dorsum of the tongue. CT showed a solid, well-circumscribed oval mass pedunculated at junction of the hard and soft palate. It extended downwards and backwards to the posterior wall of oropharynx. An excisional biopsy was carried out under general anesthesia through the transoral approach. The histology showed myoepithelioma with diffuse infiltrate of plasmacytoid cells. No mitotic figures were seen. The operative site healed without complications. No recurrence three years post op.
Discussion: Myoepithelioma should be distinguished from pleomorphic adenoma because it has been reportedto be more aggressive and occasionally transforms into malignant myoepithelioma, though our case was benign.
Conclusion: Myoepitheliomas are rare salivary gland lesions in comparison to pleomorphic adenomas. When large, they can elicit uncomfortable and sometimes dangerous symptoms. They should be considered more in the differential diagnosis of oral lesions in view of their more aggressive nature.
References
Piattelli A, Fioroni M, Rubini C. Myoepithelioma of gingiva. Report of a case. J Periodontol 1999; 6:683-7.
Simpsom RHW, Jones H, Beasley P.Benign myoepithelioma of the salivary glands: a true entity? Histopathol 1995; 27:1-9.
Ferri E, Pavon I, Armato E, Cavaleri S, Capuzzo P, Ianniello F , Myoepithelioma of a minor salivary gland of the cheek: case report. Acta Otorhinolaryngologica Italica. 2006; 26 (1):43–6.
Yaman H, Gerek M, Tosun F, Deveci S, Kiliç E, Arslan HH . Myoepithelioma of the parotid gland in a child: a case report. J of Pediatric Surg 2010; 45 (7): 5–7.
Luiz Arthur B., Leorik P., Antonio Brunno GM, Adriano Rocha G., Márcia Cristina M.. Extensive salivary myoepithelioma in pediatric patient.J of Oral and Maxillofac Surg, Med, and Pathol. 2018; 30, (1):74-78.
Huseyin Y, Mustafa G, Fuat T, Salih D, Hasan H.A. Myoepithelioma of the parotid gland in a child: a case report.J of Pediatric Surg.2010;45 (7) e5-e7
Esau P, Danielle RR, Allan UC, Jose C, Margarete Z, Ricardo LC. Plasmacytoid myoepithelioma of minor salivary glands: report of case with emphasis in the immunohistochemical findings. Head & Face Medicine 2011;7:24 DOI:10.1186 /1746-160X-7-24.
Murat O, Huseyin Y., Abdullah B. , Fahri HB., Ender G. Giant Myoepithelioma of the Soft Palate. Case Reports in Otolaryngology.2014, Article ID 561259, 3 pages.
Krishnamurthy A, Harikrishnan P,Suresh K, Sri Chinthu K.K,Vadivel I.Muthusamy R. Diagnostic challenges in a large palatal myoepithelioma filling the maxillary sinus and its classification as a tumour of uncertain malignant potential.J of Oral and Maxillofac Surg Med and Pathol. 2015; 27 (2):275-8
Luo Kei Woo V., Angiero F. Fantasia J.E. Myoepithelioma of the tongue. Oral Surg, Oral Med, Oral Pathol, Oral Radiolog. and Endodontolog.2005;99 (5):581-589.
Hirohiko T., Shigeo I., Noriaki K., Mitsunori Y., Mitsuyoshi I. Myoepithelioma of the upper lip.J of Dental Sciences.2017;12 (1): 98-102
Perez DE, Lopes MA, Almeida OP. d., Jorge J, Kowalski LP. Plasmacytoid myoepithelioma of the palate in a child. International J of Paediatric Dentistry, 2007; 17: 223–227.
Nakaya K, Oshima T, Watanabe M ,Hidaka H, Kikuchi T, Higashi K ,et al. A case of myoepithelioma of the nasal cavity. Auris Nasus Larynx 2010;37( 5): 640–643.
Boon CG, Andrew C., Nor Shahida Abd M., Hamidah M., Hisham Abdul R. Myoepithelioma: Benign or malignant – A diagnostic dilemma.Egyptian J of Ear, Nose, Throat and Allied Sciences.2017;18 (2):163-166.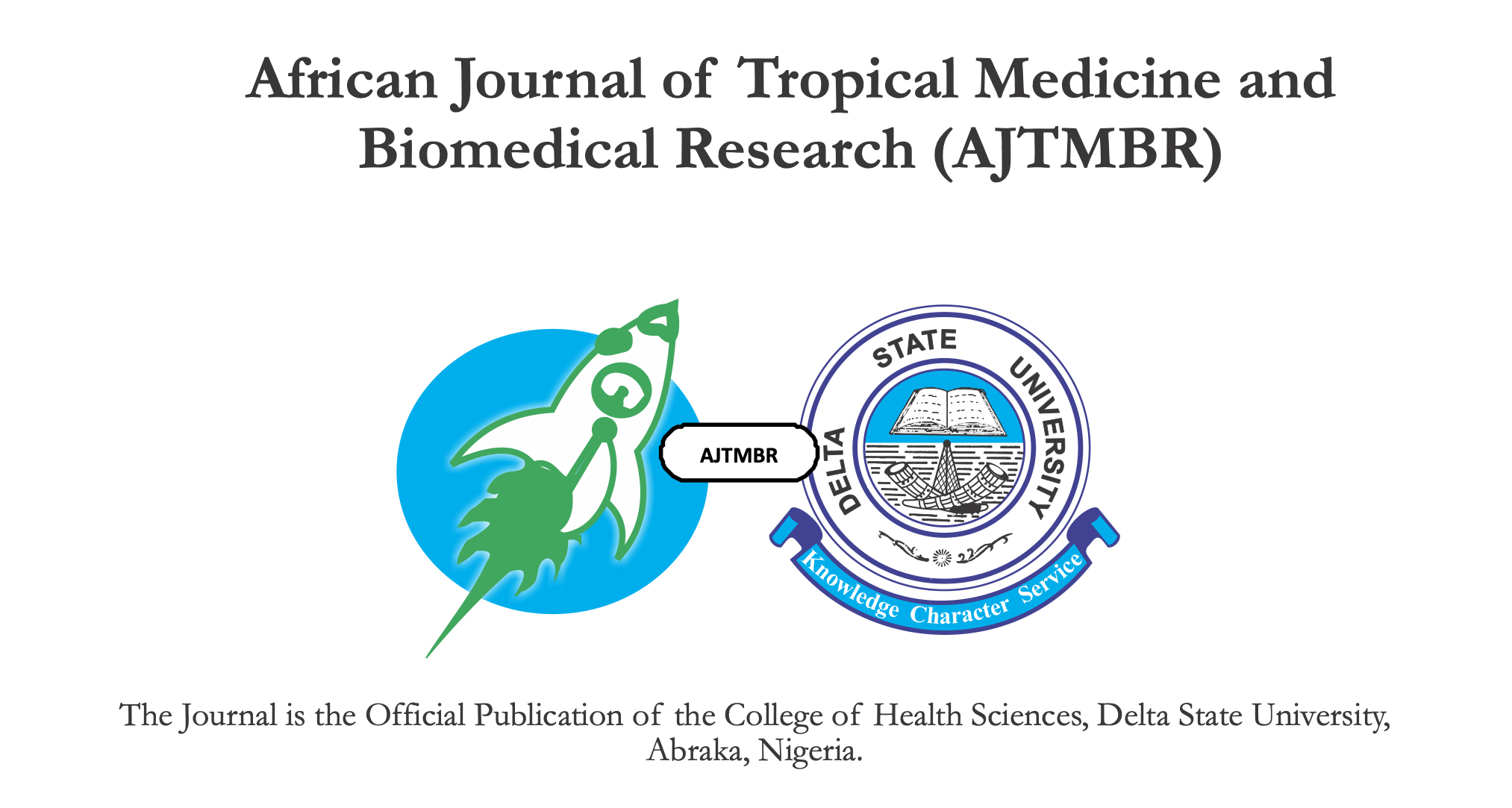 Downloads
How to Cite
Etetafia, M., & Nwachokor , F. (2019). Giant Myoepithelioma of the Soft Palate: Report of a case in a Teenage girl. African Journal of Tropical Medicine and Biomedical Research, 4(2), 62–65. Retrieved from https://ajtmbr.org.ng/index.php/home/article/view/43
Section
ORIGINAL ARTICLES
License
This work is licensed under a Creative Commons Attribution-NoDerivatives 4.0 International License.
The data collected from registered and non-registered users of this journal falls within the scope of the standard functioning of peer-reviewed journals. It includes information that makes communication possible for the editorial process; it is used to informs readers about the authorship and editing of content; it enables collecting aggregated data on readership behaviors, as well as tracking geopolitical and social elements of scholarly communication.
This journal's editorial team uses this data to guide its work in publishing and improving this journal. Data that will assist in developing this publishing platform may be shared with its developer Public Knowledge Project in an anonymized and aggregated form, with appropriate exceptions such as article metrics. The data will not be sold by this journal or PKP nor will it be used for purposes other than those stated here. The authors published in this journal are responsible for the human subject data that figures in the research reported here.
Those involved in editing this journal seek to be compliant with industry standards for data privacy, including the European Union's General Data Protection Regulation (GDPR) provision for "data subject rights" that include (a) breach notification; (b) right of access; (c) the right to be forgotten; (d) data portability; and (e) privacy by design. The GDPR also allows for the recognition of "the public interest in the availability of the data," which has a particular saliency for those involved in maintaining, with the greatest integrity possible, the public record of scholarly publishing.