Limb amputations at a Tertiary Hospital in the Developing World:
A Look at Pattern and Indications
Keywords:
Limb amputation
Abstract
Objectives: To determine the pattern of amputations in a tertiary centre. 
Design: Retrospective. 
Setting: Orthopaedic Department of the University of Benin Teaching Hospital, Benin City,  Nigeria. 
Patients: Two hundred and ten (210) Individuals who underwent limb amputations between  January 2007 and December 2011. 
Results: There were one hundred and forty nine (149) male and sixty one (61) female patients  (71% and 29% respectively). The ages ranged from one year (1) to ninety years (90). The mean  age at presentation was 42.33±19.96 (SEM = 1.378). Limb ischaemia, trauma and neoplasia  made up 55.7%, 35.7% and 4.8% respectively of all cases analyzed. There were one hundred and  fifty (150) lower limb amputations and sixty (60) upper limb amputations. 
Conclusion: Limb Ischaemia is the commonest indication for amputations done at the  University of Benin Teaching Hospital. 
References
Onubs O, Ediodiok E. The scope of amputation in developing world: a review of the literature. Postgrad Doctor. 1989;11:118-121.
Robinson KP. Historical aspects of amputation. Ann Roy Coll Surg Engl. 1991; 73: 134-136.
Ogeng'o JA, Obimbo MM, King'ori J. Pattern of limb amputation in a Kenyan Rural hospital. Int Orthop (SICOT). 2009;33:1449-1453.
Olasinde AA, Oginni LM, Bankole JO, Adegbehingbe O, Oluwadiya KS. Indications for amputations in Ile Ife, Nigeria. Niger J Med. 2002;11(3):118-120.
Dada AA, Awoyomi BO. Is the trend of amputation in Nigeria changing? A review of 51 consecutive cases seen at Federal Medical Centre Ebute Metta, Lagos, Nigeria. Niger J Med 2012;51:167-169.]
Thanni LO, Tade AO (2007) Extremity amputation in Nigeria a review of indications and mortality. Surgeon 5:213- 217
Paudel B, Shrestha,BK, Banskota,AK. Two faces of major lower limb amputations. Kathmandu Medical Journal. 2005; 3(3): 212-216
El Bushra Ahmed Doumi, Aisha Jabir Ali. Major limb amputations in El Obeid Hospital, Western Sudan Sudan JMS Vol. 2, No.4 , Dec. 2007. 237-239
Othman Maimani, Zohair Jamil Gazzaz, Mian Usman Farooq Amputations in a tertiary care hospital. Acta Medica Academica 2009;38:86-91]
Phillipo L Chalya, Joseph B Mabula, Ramesh M Dass, Isidori H Ngayomela, Alphonce B Chandika, Nkinda Mbelenge, Japhe t M Gi l yoma . Ma jor l imb amputations: A tertiar y hospital experience in northwestern Tanzania. Journal of Orthopaedic Surgery and Research. 2012, 7:18 doi:10.1186/1749- 799X-7-18.
Adeghate E, Schattner P, Dunn E. An Update on the etiology and epidemiology of diabetes mellitus. Ann N Y Acad Sci. 2006;1084: 1-29.
Akiode O, Shonubi AM, Musa A, Sule G. Major limb amputations: An audit of indications in a suburban surgical practice. J Natl Med Assoc 2005;97:74-78
Nwankwo OE, Katchy AU. Surgical limb amputation: A five year experience at Hilltop orthopaedic hospital, Enugu, Nigeria. Nigerian Journal of Orthopaedics and Trauma. 2004;3:139-149].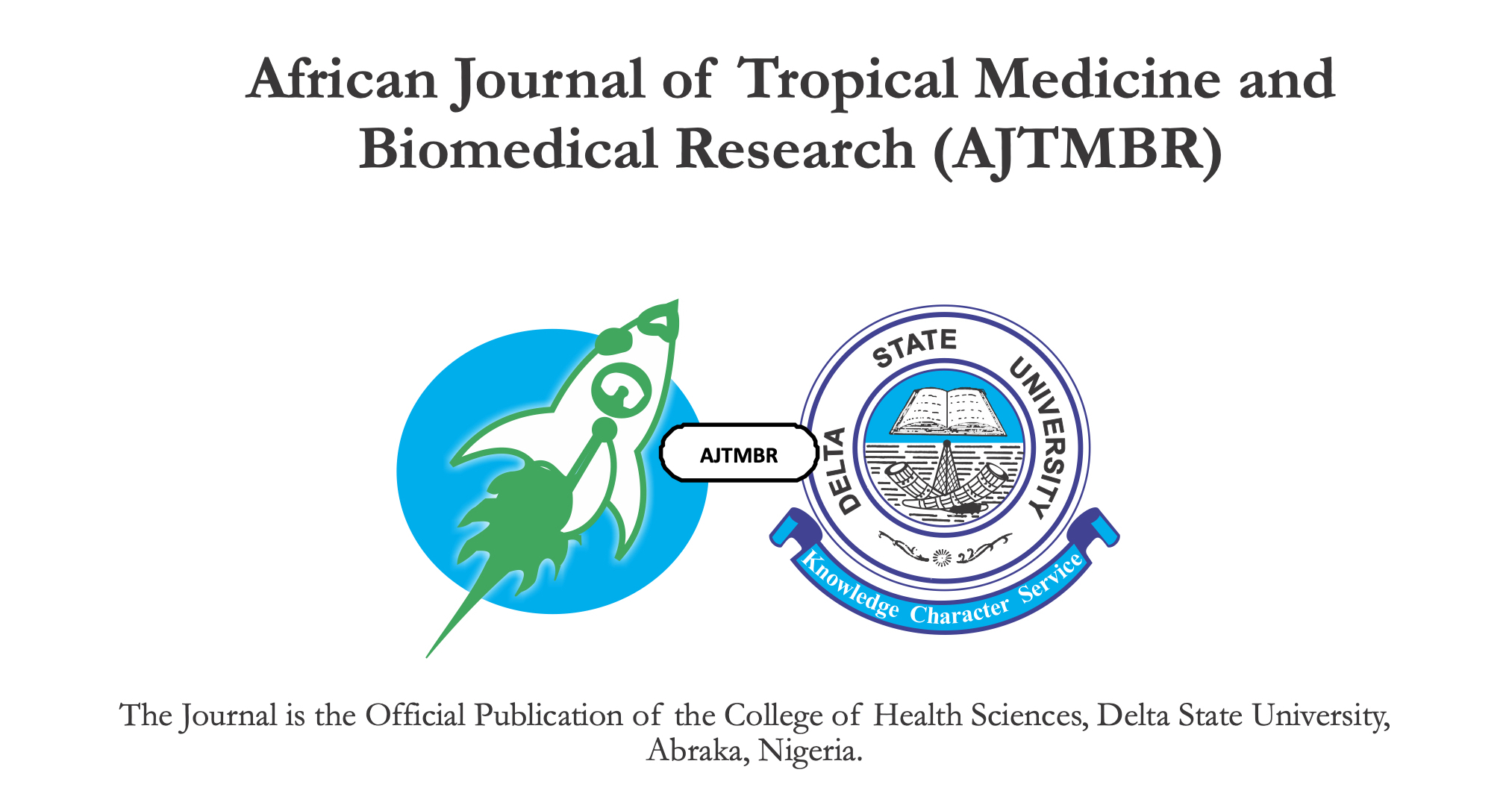 Downloads
How to Cite
1.
Bafor A, Akinyemi O. Limb amputations at a Tertiary Hospital in the Developing World: : A Look at Pattern and Indications. AJTMBR [Internet]. 2015 Mar. 1 [cited 2023 Oct. 1];3(1):16-20. Available from: https://ajtmbr.org.ng/index.php/home/article/view/46
Section
ORIGINAL ARTICLES
License
This work is licensed under a Creative Commons Attribution-NoDerivatives 4.0 International License.
The data collected from registered and non-registered users of this journal falls within the scope of the standard functioning of peer-reviewed journals. It includes information that makes communication possible for the editorial process; it is used to informs readers about the authorship and editing of content; it enables collecting aggregated data on readership behaviors, as well as tracking geopolitical and social elements of scholarly communication.
This journal's editorial team uses this data to guide its work in publishing and improving this journal. Data that will assist in developing this publishing platform may be shared with its developer Public Knowledge Project in an anonymized and aggregated form, with appropriate exceptions such as article metrics. The data will not be sold by this journal or PKP nor will it be used for purposes other than those stated here. The authors published in this journal are responsible for the human subject data that figures in the research reported here.
Those involved in editing this journal seek to be compliant with industry standards for data privacy, including the European Union's General Data Protection Regulation (GDPR) provision for "data subject rights" that include (a) breach notification; (b) right of access; (c) the right to be forgotten; (d) data portability; and (e) privacy by design. The GDPR also allows for the recognition of "the public interest in the availability of the data," which has a particular saliency for those involved in maintaining, with the greatest integrity possible, the public record of scholarly publishing.