Prevalence of Cardiovascular Risk Factors Among Factory Workers in the Beverage Industries in Edo State, Nigeria
Keywords:
Hypertension, diabetes mellitus
Abstract
Introduction: This study sought to determine the prevalence of hypertension, diabetes  mellitus, obesity and other cardiovascular risk factors among factory workers in beverage  industries in Edo State, Southern Nigeria.  
Materials and methods: An analytical cross sectional study was carried out among 349  respondents (201 respondents in the bottling Industry and 148 respondents in the brewing  Industry), using researcher-administered questionnaires, observational checklist and an in depth interview guide. Data was analyzed using SPSS version 16.0 and STATCALC with results  presented in tabular form. 
Results: Majority of the respondents fell within the age range 25-34 years. The mean ages of respondents for respective industries were; bottling 30.2 (±7.9) and brewing 39.8 (±12.2) years.  Majority of respondents were male (92.8%). This survey reported a prevalence of hypertension  as 98 (28.1%), diabetes mellitus 5 (1.4%) and obesity 29 (8.3%). One hundred and seventy one  (49%) respondents regularly took alcohol, 5.4% of respondents smoked cigarettes while 56.2%  were involved in regular exercise. Pre-employment medical examination was reported by 53.0%  of respondents. Recreational facilities were absent in both industries. 
Conclusion: This study has highlighted the prevalence of hypertension, diabetes mellitus and  obesity in the beverage industries in Edo State, Nigeria; and the need to implement NCD  control strategies in the beverage industry. 
References
World Health Organisation. Factsheet: Non communicable diseases. March 2013. 2. Ogunleye OO, Ogundele SO, Akinyemi JO, Ogbe r a AO. Clust e ring of hypertension, diabetes mellitus and d y s l i p i d e m i a i n a Nigerian population: a cross sectional study. Afr J Med MedSci 2012; 41(2): 191-5. 3. Oladapo OO, Salako L, Sodiq O, Shoyinka K, Adedapo K, et al. A prevalence of cardiometabolic risk factors among a rural Yor uba South Western Nigerian population: a population based survey. Cardiovasc J Afr. 2010; 21 (1): 26-31.
Akinboboye O, Idris O, Akinboboye O, Akinkugbe O. Trends in coronary artery disease and associated risk factors in Sub Saharan Africans. Journal of Human Hypertension. 2003; 17: 381-7
World Health Organisation. Obesity: prevention and managing the global epidemic. Report of a WHO Technical Report Series. 894. Geneva: World Health Organisation. 2000.
Federal Ministry of Health. National policy on integrated disease surveillance and response (IDSR). Abuja, FMOH.
Ofili AN, Ugwu EN, Ziregbe A, Richards R, Salami S. Knowledge of disease notification among doctors in government hospitals in Benin City, Edo State Public Health. 2003; 117: 214-217.
Ogah OS, Okpechi I, Chukwu II, Akinyemi JO, Onwubere BJC,et al. Blood pressure, prevalence of hypertension and hypertension related complications. World J Cardiol. 2012; 4(12): 327-340.
Ekwunife OI, Aguwa CN. A meta-analysis of prevalence rate of hypertension in Nigerian populations. Journal of Public Health and Epidemiology. 2011; 3 (13): 604 607.
Sciences. 2005; 12 (1): 26 30).
Chukwunonye II, Chukwu A, John C , Ohagwu KA, Imoh ME, et al. Prevalence of overweight and obesity in Nigerians- a systematic review. Diabetes, Metabolic Syndrome and Obesity: Targets and Therapy 2013; 6: 43-47.
World Health Organisation. Obesity: prevention and managing the global epidemic. Report of a WHO Technical Report Series. 894. Geneva: World Health Organisation. 2000.
Mbanya J, Ramiaya K. Diabtes mellitus disease and mortality in Sub-Saharan Africa. 2003.Available
@Http://www.ncbi.nlm.nih.gov/bookshelf /br.fcgi? book=dmssa&part=A1764 accessed on 19/06/10.
Nyenwe EA, Odia OJ, Ihekwaba AE, Ojule A, Babatunde S. Type 2 diabetes in adult Nigerians: a study of its prevalence and risk factors in Port Harcourt, Nigeria. Diabetes Res ClinPract. 2003; 62(3): 177-85.
Federal Ministry of Labour. National policy on occupational safety and health. 2006
National health and nutrition examination survey (NHANES) III. Body
measurements (anthropometry) manual available from:
www.cdc.gov/nchs/data/nhanes3/cdrom- /nchs/manual/anthro.pdf (cited 14/09/2010 1400hrs)
Pickering TG, Hall JE, Appel W, Falkner BE, Graves J, et al. Recommendations for blood pressure measurements in humans and experimental animals: part 1: blood pressure measurements in humans: a statement for professional and public education of the American Heart Association Council on high blood pressure research. Hypertension. 2005; 45: 142 61.
Ofili AN, Omuemu VO. The Knowledge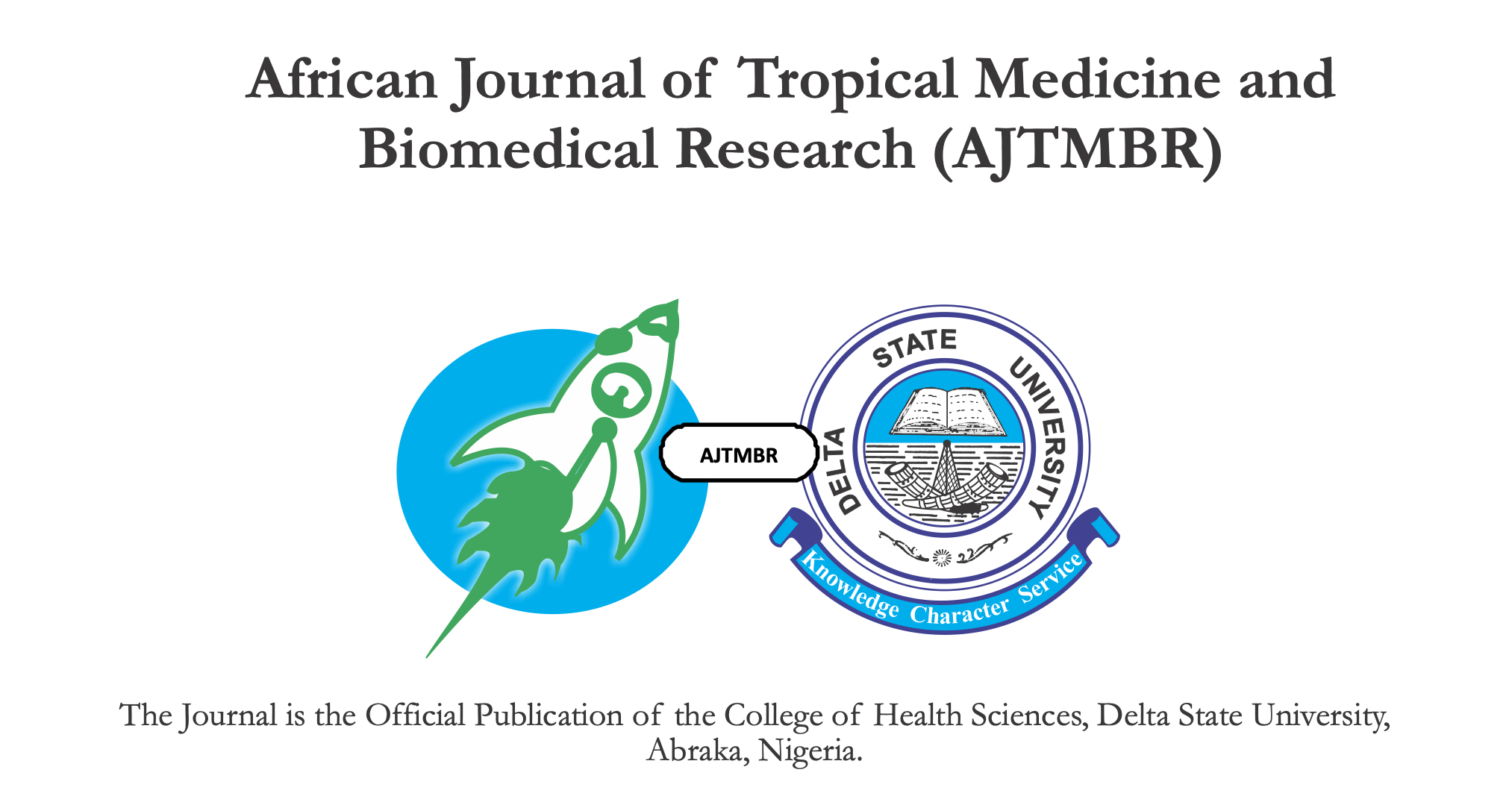 Downloads
How to Cite
1.
Awunor N, Isah E. Prevalence of Cardiovascular Risk Factors Among Factory Workers in the Beverage Industries in Edo State, Nigeria. AJTMBR [Internet]. 2020 Nov. 10 [cited 2023 May 28];3(1):28-33. Available from: https://ajtmbr.org.ng/index.php/home/article/view/48
Section
ORIGINAL ARTICLES
License
This work is licensed under a Creative Commons Attribution-NoDerivatives 4.0 International License.
The data collected from registered and non-registered users of this journal falls within the scope of the standard functioning of peer-reviewed journals. It includes information that makes communication possible for the editorial process; it is used to informs readers about the authorship and editing of content; it enables collecting aggregated data on readership behaviors, as well as tracking geopolitical and social elements of scholarly communication.
This journal's editorial team uses this data to guide its work in publishing and improving this journal. Data that will assist in developing this publishing platform may be shared with its developer Public Knowledge Project in an anonymized and aggregated form, with appropriate exceptions such as article metrics. The data will not be sold by this journal or PKP nor will it be used for purposes other than those stated here. The authors published in this journal are responsible for the human subject data that figures in the research reported here.
Those involved in editing this journal seek to be compliant with industry standards for data privacy, including the European Union's General Data Protection Regulation (GDPR) provision for "data subject rights" that include (a) breach notification; (b) right of access; (c) the right to be forgotten; (d) data portability; and (e) privacy by design. The GDPR also allows for the recognition of "the public interest in the availability of the data," which has a particular saliency for those involved in maintaining, with the greatest integrity possible, the public record of scholarly publishing.