SPUTUM AFB POSITIVITY OF SUSPECTED TUBERCULOSIS PATIENTS IN A TERTIARY HOSPITAL IN BENIN CITY NIGERIA
Keywords:
Tuberculosis, sputum positivity
Abstract
Background: Tuberculosis ranks as the second leading cause of death from infectious diseases  worldwide only next to HIV. It is a chronic debilitating condition caused by a bacterium of the  genus Mycobacterium, mainly mycobacterium hominis.  
Aim: To determine the prevalence of AFB positivity among patients attending University of Benin Teaching Hospital. 
Material and Methods: A retrospective record review was done by extracting relevant data  from the records of patients screened for PTB using sputum AFB in UBTH over a 1-year  period. Analysis was done using SPSS Version 20.0. 
Result: Of the 895 patients results reviewed, 123 (13.7%) were positive, 772 (84.2%) were  negative. Of the 123 that were positive 47 (37.6%) were females and 76 (62.4%) were males. Of the negatives, 432 (56.0%) were females and 340 (44.0%) were males. The difference between  the male and female positivity was statistically significant with a p value of 0.0001. The highest  number of positive cases were seen in the age range 30 39 years (30: 18.6%). Of those that had  positive sputum samples, 6 (4.9%) were children age less than 18 years.  
Conclusion: The prevalence of positivity in the study area is relatively high compared to other  regions, there is therefore need for concerted efforts at all levels of government to put in place  programmes that will encourage poverty reduction and overcrowding while at the same time  encouraging immunisation.
References
World Health Organisation. Global t u b e r c u l o s i s r e p o r t . 2 0 1 4 , WHO/HTM/TB/2014.08.
Corbett EL, Watt CJ, Walker N, Maher D, Williams, BG, Raviglione MC, Dye C. The growing burden of tuberculosis: global trends and interactions with the HIV epidemic. Achieves of Internal Medicine, 2003; 163:10091021.
Dye C, Scheele S, Dolin P, Pathania V, Raviglione MC. Consensus statement. Global burden of tuberculosis: estimated incidence, prevalence, and mortality by country. WHO Global surveillance and Monitoring project. JAMA, 1999; 282: 677 686.
Federal Ministry of Health. Department of Public Health. National tuberculosis and leprosy control programme: workers manual. Revised 5th ed. 2010. Abuja, Nigeria. Federal Ministry of Health 2010.
Dim CC, Dim NR. Trends of tuberculosis prevalence and treatment outcome in an under-resourced setting: The case of Enugu state, South East Nigeria. Nigerian Medical Journal, 2013; 54:392-7.
Muvunyi CM, Masaisa F, Bayingana C, Musemakweri A, Mutesa L, Hernandez TC. Prevalence and diagnostic aspects of sputum smear positive tuberculosis cases at a tertiary care institution in Rwanda. African Journal of Microbiology Research, 2010;
(1):088-091.
Ukwaja KN, Alobu I, Ifebunandu NA, Osakwe C, Igwenyi C. Trend in case detection rate for all tuberculosis cases notified in Ebonyi, Southeastern Nigeria during 1999-
Pan African Medical Journal, 2013; 16:1-5. 8. World Health Organisation. World health organisation global tuberculosis programme. Laboratory services in tuberculosis control, (WHO/TB/98.258 [Pt 2]), Geneva, Switzerland, 1998.
World Health Organization. Expert Consultation on Improved the Diagnosis of Tuberculosis through Optimization of Sputum Microscopy. World Health Organization, Geneva, Switzerland, 2005.
Finch D, Beaty CD. The Utility of a single sputum specimen in the diagnosis of tuberculosis: comparison between HIV infected and non-HIV-Infected Patients. Chest, 1997; 111: 1174-1179.
Frieden TR, Sterling TR, Munsiff SS, Watt CJ, Dye C. Tuberculosis. Lancet, 2003; 362:887- 899.
Ipuge YAI, Rieder HL, Enarson DA. The yield of acid bacilli from serial smears in routine microscopy laboratories in rural Tanzania. Transactions of the Royal Society of
Tropical Medicine and Hygiene, 1996; 90: 258261. 13. World Health Organization Geneva. TB Control as an Integral part of primary health care, 1988, 11. 14. Yassin MA, Datiko DG, Shargie EB. Ten-year experiences of the tuberculosis control programme in the southern region of Ethiopia. Int J Tuberc Lung Dis, 2006; 10(10): 1166-1171.
Onadeko BO, Dickinson R, Sofowora EO. Miliary tuberculosis of the lung in Nigerian adults. East Afr. Med. J. 1975; 52:390-5.
Awe A, Kabir M, Odusote T, Daniel O, Omoniyi A. Improved programme performance from tripartite partnership (USAID, WHO, NTBCP): The Nigerian experience 2002 - 2007 (poster abstract 14 - day 3). 18th International Union Against Tuberculosis and Lung Disease (The Union) - African region; 3 - 5 March, Abuja Nigeria, 2011.
Harries AD, Kamenya A, Subramanyam VR, Salaniponi FM, Nyangulu DS. Sputum smears for diagnosis of smear positive pulmonary tuberculosis. Lancet, 1996; 347: 834835.
Harries AD, Mphasa NB, Mundy C, Banerjee A, Kwanjana JH, Salaniponi FM. Screening tuberculosis suspects using two sputum smears. Int. J. Tuberc. Lung Dis. 2000; 4:36-40.
Holmes CB, Hausler H, Nunn P. A review of sex differences in the epidemiology of tuberculosis. Int. J. Tuberc. Lung Dis. 1998; 2:96-104.
Shargie EB, Lindtjørn B. DOTS improves treatment outcomes and service coverage for tuberculosis in South Ethiopia: a retrospective trend analysis. BMC Public Health, 2005; 5(62):1471-
Garg SK, Tiwari RP, Tiwari D, Singh R, Malhotra D, Ramnani VK, Prasad GB, Chandra R, Fraziano M, Colizzi V, Bisen PS. Diagnosis of tuberculosis: available
technologies, limitations, and possibilities. J. Clin. Lab. Anal. 2003; 17:155-63.
Wu ZL, Wang AQ. Diagnostic yield of repeated smear microscopy examinations among patients suspected of pulmonary TB in Shandong province of China. International Journal of Tubercle and Lung Disease, 2000; 4: 10861087.
Wallis RS, Pai M, Menzies D, Doherty TM, Walzl G, Perkins MD. Biomarkers and diagnostics for tuberculosis: progress, needs, and translation into practice. Lancet, 2010; 375:1920-1937.
Ani A, Okpe S, Akambi M, Ejelionu E, Yakubu B, Owolodun O. Comparison of a DNA based PCR method with conventional methods for the detection of M. tuberculosis in Jos, Nigeria. J Infect. Dev. Ctries, 2009; 3(6): 470-475.
Seni J, Kidenya BR, Obassy E, Mirambo M, Burushi V, Mazigo HD, Kapesa A, Majigo M, Mshana SE. Low sputum smear positive tuberculosis among pulmonary tuberculosis suspects in a tertiary hospital in Mwanza, Tanzania. Tanzania Journal of Health Research, 2012; 14(2):1-9.
Crampin AC, Floyd S Mwaungulu F, Black G, Ndhlovu R, Mwaiyeghele E, Glynn JR. Comparison of two versus three smears in identifying culture-positive tuberculosis
patients in a rural African setting with high HIV prevalence. International Journal of
Tubercle and Lung Disease, 2001; 5:994999. 27. Craft DW, Jones MC, Blanchet CN, Hopfer RL. Value of examining three acid-fast bacillus sputum smears for removal of patients suspected of having tuberculosis from the "airborne precautions" category. J. Clin. Microbiol. 2000; 38: 4285-7.
Steingart KR, Ng V, Henry M, Hopewell PC, Ramsay A, Cunningham J, Urbanczik R, Perkins MD, Aziz MA, Pai M. Sputum processingmethods to improve the sensitivity of smear microscopy for tuberculosis: a
systematic review. Lancet Infectious Diseases, 2005; 6: 664-674.
IUATLD. Technical Guide for Sputum Examination for Tuberculosis by Direct Smear Microscopy, 3rd edn. International Union against Tuberculosis and Lung Diseases, Paris, 1978
Kolawole TM, Onadeko EO, Sofowora EO, Esan GF. Radiological patterns of pulmonary tuberculosis in Nigeria. Trop. Geogr. Med. 1975; 27:339-50.
Enarson DA, Rieder HL, Arnadottir T, Tréucq A. In: Management of tuberculosis: a guide for low income countries. Paris: International Union Against Tuberculosis and Lung Disease, 2000; 1-89.
Nwadike VU, Mbata GC, Kalu IE, Ojide KC, Nweke IG, Nwokeji CM, Nwokoro MU. Sputum smear positive tuberculosis among tuberculosis patients in a tertiary hospital in South Eastern Nigeria. Sky Journal of Medicine and Medical Sciences, 2013; 1(5):20 24.
Katamba A, Laticevschi D, Rieder HL. Efficiency of a third serial sputum smear examination in the diagnosis of tuberculosis in Moldova and Uganda. Int. J. Tuberc. Lung Dis. 2007; 11:659-64.
Bhanvahka JN, Gupta R, Sharma DC. HIV Seropositivity in hospitalised pulmonary tuberculosis patients in Delhi. Indian Journal of Tuberculosis, 1997; 44:17-19.
Prasanthi K, Kumari AR. Efficacy of fluorochrome stain in the diagnosis of pulmonary tueberculosis co infected with HIV. Indian Journal of Medical Microbiology, 2005; 23:179-185.
Van Deun A, Salim AH, Cooreman E, Hossain MA, Rema A, Chambugonj N, Hye MA, Kawria A, Declercq E. Optimal tuberculosis case detection by direct sputum smear microscopy: how much better is more? Int. J. Tuberc. Lung Dis. 2002; 6:222-30. 37. Kehinde AO, Obaseki FA, Cadmus SI, Bakare RA. Diagnosis of Tuberculosis: Urgent Need to Strengthen Laboratory Services. JAMA, 2005; 97:394-397.
Khan MS, Osman D, Charalambos S, Karam S. Improvement of tuberculosis case detection and reduction of discrepancies between men and women by simple sputum-submission instructions: A pragmatic randomized controlled trial. The Lancet, 2007; 369:1955-1960.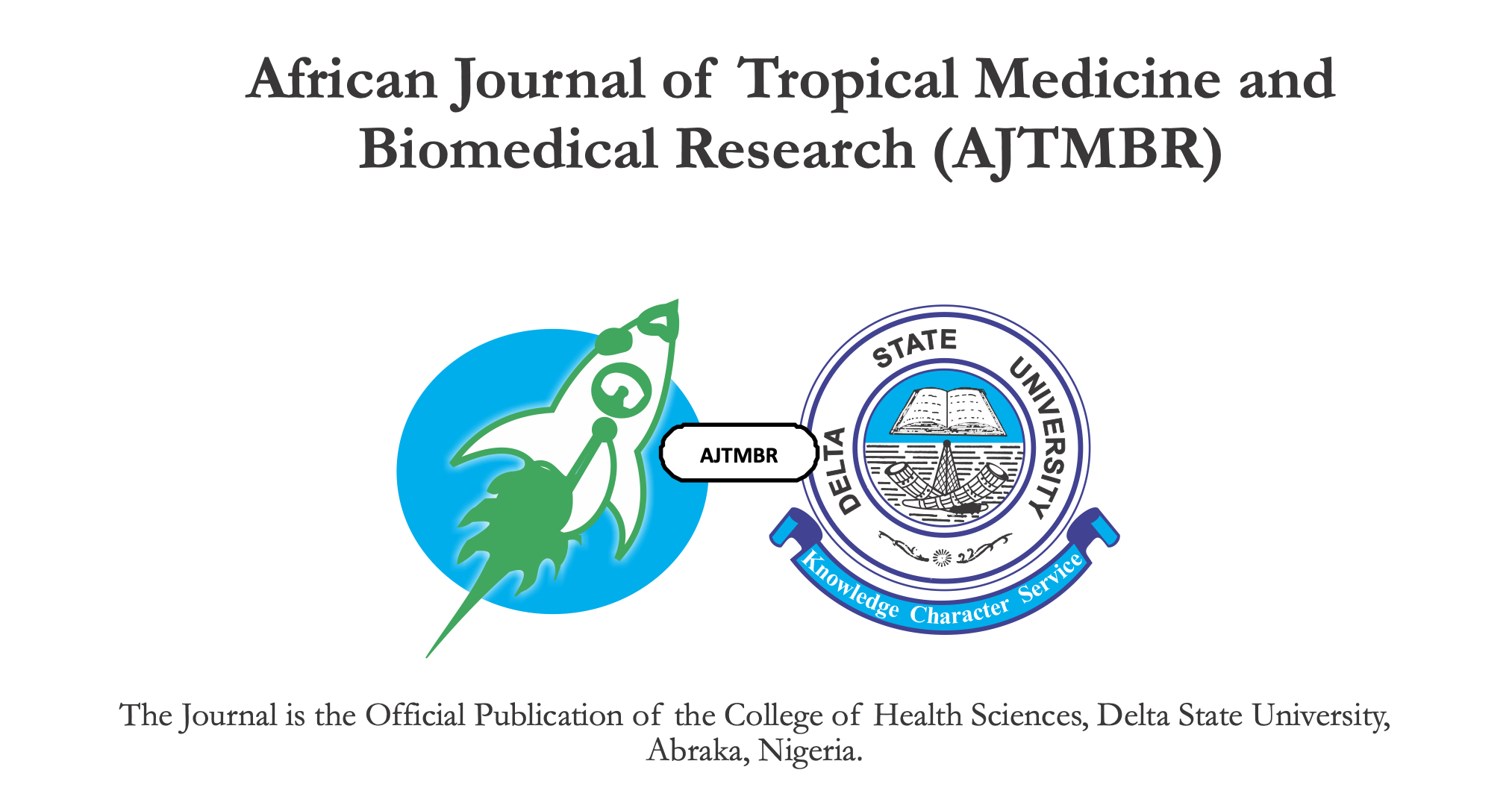 Downloads
How to Cite
1.
Osarogiagbon W, Iyoha O. SPUTUM AFB POSITIVITY OF SUSPECTED TUBERCULOSIS PATIENTS IN A TERTIARY HOSPITAL IN BENIN CITY NIGERIA . AJTMBR [Internet]. 2015 Mar. 1 [cited 2023 Oct. 1];3(1):46-53. Available from: https://ajtmbr.org.ng/index.php/home/article/view/51
Section
ORIGINAL ARTICLES
License
This work is licensed under a Creative Commons Attribution-NoDerivatives 4.0 International License.
The data collected from registered and non-registered users of this journal falls within the scope of the standard functioning of peer-reviewed journals. It includes information that makes communication possible for the editorial process; it is used to informs readers about the authorship and editing of content; it enables collecting aggregated data on readership behaviors, as well as tracking geopolitical and social elements of scholarly communication.
This journal's editorial team uses this data to guide its work in publishing and improving this journal. Data that will assist in developing this publishing platform may be shared with its developer Public Knowledge Project in an anonymized and aggregated form, with appropriate exceptions such as article metrics. The data will not be sold by this journal or PKP nor will it be used for purposes other than those stated here. The authors published in this journal are responsible for the human subject data that figures in the research reported here.
Those involved in editing this journal seek to be compliant with industry standards for data privacy, including the European Union's General Data Protection Regulation (GDPR) provision for "data subject rights" that include (a) breach notification; (b) right of access; (c) the right to be forgotten; (d) data portability; and (e) privacy by design. The GDPR also allows for the recognition of "the public interest in the availability of the data," which has a particular saliency for those involved in maintaining, with the greatest integrity possible, the public record of scholarly publishing.