Effect of Occupational exposure to Gasoline on Reproductive and Thyroid hormones among male Petrol station attendants in Kwara State
Keywords:
BTEX, Thyroid, Petrol, testosterone
Abstract
Introduction: Petrol fume contain organic compounds that have been suggested to be endocrine
disruptors. There is paucity of data on petrol fume-linked health challenges in Nigeria. Thus, we evaluated
the effects of petrol fume exposure on blood levels of reproductive and thyroid hormones among petrol
pump station attendants in Kwara state, Nigeria.
Material and Methods: Eighty (80) petrol station attendants and fifty (50) non-occupationally exposed
subjects were recruited as controls. Anthropometric indices were taken and fasting blood samples were
collected after signing the consent form. Free triiodothyronine (FT3), free thyroxine (FT4), thyroid
stimulating hormone (TSH), testosterone, follicle stimulating hormone and luteinizing hormone were
evaluated using standard techniques.
Results: Average age and BMI of petrol fume-exposed subjects are 27.40±0.419 and 24.98±0.254
respectively and was not different from controls. Elevated FT3 and FT4 were evaluated with a decreased
TSH level in the exposed group when compared with controls. In contrast, FSH, LH and testosterone
were significantly reduced in exposed group when compared with control.
Conclusion: The result of this study shows that petrol fume toxicants adversely alter thyroid and gonadal
functions thereby modulating circulating levels of reproductive and thyroid hormones in male petrol
station attendants in Kwara state.
References
Kuranchie FA, Angnunavuri PN, Attiogbe F, Nerquaye-Tetteh EN. Occupational exposure of benzene, toluene, ethylbenzene and xylene (BTEX) to pump attendants in Ghana: Implications for policy guidance. Cogent Environmental Science, 5(1). 2019; p.1603418.
Ugwoke CC, Nwobodo ED, Unekwe P, Odike M, Chukwuma ST, Amilo G. The reproductive dysfunction effects of gasoline inhalation in albino rats. Nigerian Journal of Physiological Sciences. 2005: 20(1&2) 54-57.
Zamanian Z, Sedaghat Z, Mehrifar Y. Harmful outcome of occupational exposure to petrol: Assessment of liver function and blood parameters among gas station workers in Kermanshah city, Iran. International journal of preventive medicine. 2018; 9.
Edokpolo B. Yu QJ. Connell D. Health risk assessment of ambient air concentrations of benzene, toluene and xylene (BTX) in service station environments. International journal of environmental research and public health. 2014; 11(6), pp.6354-6374.
Al-Harbi M, Alhajri I, AlAwadhi A, Whalen JK. Health symptoms associated with occupational exposure of gasoline station workers to BTEX compounds. Atmospheric Environment, 241, p.117847.
Ekpenyong CE, Asuquo AE. Recent advances in occupational and environmental health hazards of workers exposed to gasoline compounds. International journal of occupational medicine and environmental health. 2017; 30(1), p.1.
Afolabi OT. Assessment of safety practices in filling stations in Ile-Ife, South Western Nigeria. Journal of Community Medicine and primary Health care. 2011; 23(1-2), pp.9-15.
Garshick E, Francine L, Jainne E, Bernard R, Marry E, Davis-Ellen A, Thomas JS. Lung Cancer and vehicle exhaust in thucking industries workers. Journal of Environmental Perspective. 2008; 166(10):1327-1332.
Ben-Chioma AE, Nwachuku EO. Assessment of Cadmium, Lead and Mercury Levels on Petrol Attendants and Welders in Obio-Akpor and Phalga in Rivers State. 2018. 10.21276/ijcmr.2018.5.11.16
Azari MR, Konjin ZN, Salehpour MDS. Occupational Exposure of Petroleum Depot workers to BTEX Compounds. International Journal of Occupational and Environmental Medicine. 2012; 3(1): 39-44.
Carrieri M, Bonfiglio E, Scapellato M, Macc I, Tranfo G, Faranda P, Paci E, Bartolucci M. Comparison of exposure assessment methods in occupational exposure to benzene in gasoline filling-station attendants. Toxicol Lett. 2006; 162:146-152.
Mahmood NMA et al. "Plasma proteins profile and renal function relative to exposure time of gasoline filling station workers in Sulaimani city". 2013; 55408223.
Sahb AA. Hematological assessment of gasoline exposure among petrol filling workers in Baghdad. Journal of the Faculty of Medicine Baghdad. 2011; 53(4), pp.396-400.
Keretetse GS, Laubscher PJ, Du Plessis JL, Pretorius PJ, Van Der Westhuizen FH, Van Deventer E, Van Dyk E, Eloff FC, Van Aarde MN, Du Plessis LH. DNA damage and repair detected by the comet assay in lymphocytes of African petrol attendants: a pilot study. Annals of occupational hygiene. 2008; 52(7), pp.653-662.
Xiong F, Li Q, Zhou B, Huang J, Liang G, Zhang LE, Ma S, Qing L, Liang L, Su J, Peng X. Oxidative stress and genotoxicity of long-term occupational exposure to low levels of BTEX in gas station workers. International journal of environmental research and public health. 2016; 13(12), p.1212.
Jenardhanan P, Panneerselvam M, Mathur PP. Effect of environmental contaminants on spermatogenesis. In Seminars in cell & developmental biology 2016; 59, pp. 126-140.
Owagboriaye FO, Dedeke GA, Ashidi JS, Aladesida AA, Olooto WE. Effect of gasoline fumes on reproductive function in male albino rats. Environmental Science and Pollution Research. 2018; 25(5), pp.4309-4319.
Ujowundu CO, Kalu FN, Nwaoguikpe RN, Ibegbulem CO, Igwe KO. Thyroid hormone metabolism in diesel petroleum induced hormonal changes and the effect of indigenous Nigerian spices in rats. Journal of Research in Biochemistry. 2013; 1(2): 086-094
Meludu SC, Ugwu CE, Ogbuowelu OS, Manafa PO, Ekuma-Okereke O. Assessment of Thyroid Function in Workers Occupationally Exposed to Gasoline and Paint Products in Anambra Central of Nigeria . IBBJ. 2019; 5 (3)
La Vignera, S, Vita, R. Thyroid dysfunction and semen quality. International journal of immunopathology and pharmacology. 2018; 32, p.2058738418775241.
Zoeller RT, Brown TR, Doan LL, Gore AC, Skakkebaek NE, Soto AM, Woodruff TJ, Vom Saal FS. Endocrine-disrupting chemicals and public health protection: a statement of principles from The Endocrine Society. Endocrinology. 2012; 153(9), pp.4097-4110.
Gore AC, Chappell VA, Fenton SE, Flaws JA, Nadal A, Prins GS, Toppari J, Zoeller RT. EDC-2: the Endocrine Society's second scientific statement on endocrine-disrupting chemicals. Endocrine reviews. 2015; 36(6), pp.E1-E150.
Chen C, Ling MY, Lin FH, Xu L, Lv ZM. Melatonin appears to protect against steroidogenic collapse in both mice fed with high‐fat diet and H2O2‐treated TM3 cells. Andrologia. 2019 Sep;51(8):e13323.
Carani C, Isidori AM, Granata A, Carosa E, Maggi M, Lenzi A, et al. Multicenter study on the prevalence of sexual symptoms in male hypo- and hyperthyroid patients. J Clin Endocrinol Metab 2005; 90(12): 64726479.
Rajender S, Monica MG, Walter L, Agarwal A. Thyroid, spermatogenesis, and male infertility. Front Biosci (Elite Ed). 2011; 3: 843-855.
Singh R, Hamada AJ, Agarwal A. Thyroid hormones in male reproduction and fertility. Open Reprod Sci J. 2011; 3: 98-104.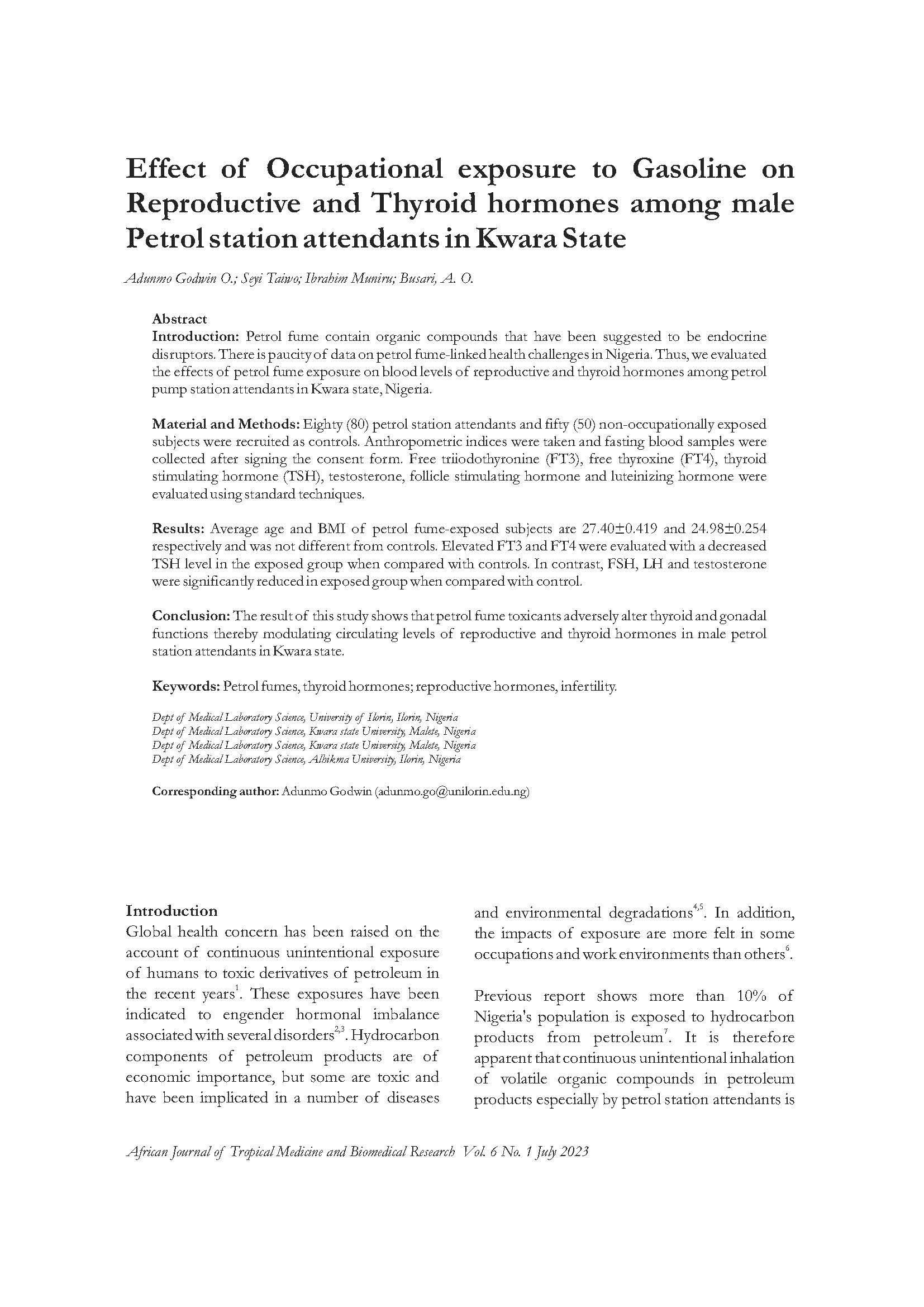 Downloads
How to Cite
1.
Adunmo GO, Sabinari I, Adunmo EO, Taiwo S, Muniru I, Busari AO. Effect of Occupational exposure to Gasoline on Reproductive and Thyroid hormones among male Petrol station attendants in Kwara State. AJTMBR [Internet]. 2023 Sep. 15 [cited 2023 Oct. 1];6(1):6-11. Available from: https://ajtmbr.org.ng/index.php/home/article/view/73
Section
ORIGINAL ARTICLES
License
Copyright (c) 2023 African Journal of Tropical Medicine and Biomedical Research
This work is licensed under a Creative Commons Attribution-ShareAlike 4.0 International License.
The data collected from registered and non-registered users of this journal falls within the scope of the standard functioning of peer-reviewed journals. It includes information that makes communication possible for the editorial process; it is used to informs readers about the authorship and editing of content; it enables collecting aggregated data on readership behaviors, as well as tracking geopolitical and social elements of scholarly communication.
This journal's editorial team uses this data to guide its work in publishing and improving this journal. Data that will assist in developing this publishing platform may be shared with its developer Public Knowledge Project in an anonymized and aggregated form, with appropriate exceptions such as article metrics. The data will not be sold by this journal or PKP nor will it be used for purposes other than those stated here. The authors published in this journal are responsible for the human subject data that figures in the research reported here.
Those involved in editing this journal seek to be compliant with industry standards for data privacy, including the European Union's General Data Protection Regulation (GDPR) provision for "data subject rights" that include (a) breach notification; (b) right of access; (c) the right to be forgotten; (d) data portability; and (e) privacy by design. The GDPR also allows for the recognition of "the public interest in the availability of the data," which has a particular saliency for those involved in maintaining, with the greatest integrity possible, the public record of scholarly publishing.