Presentation of Breast Diseases in Warri, Nigeria
Keywords:
Breast symptoms, Breast lump, Breast cancer
Abstract
Introduction: The pattern of breast disease presentation in Warri is not known. Knowing the pattern of presentation will enable planning for adequate scarce resource utilization.
Patients and methods: A prospective descriptive study was done in Central Hospital, Warri. A pro-forma was designed, including the bio data, presentation, investigation and treatment of all patients presenting to the breast clinic in the hospital between January 2008 and January 2009. Data entered into Microsoft Excel spreadsheet and analyzed.
Results: A total of 142 patients, all females, presented to the clinic. Age range was 16-82years with a median of 29 and mean of 33.37 years. The three main complaints were breast lump 111(78.17%), breast pain 24(16.90%) and nipple discharge 7(4.93%). Fibroadenoma 46(41.44%) are the most common histological diagnosis. 18.02% of the breast lumps were malignant.
Conclusion: Breast lump is the most common complaint in our breast clinic of which 18% of the breast lumps were malignant.
References
Siddiqui K, Imtiaz RM. Pattern of Breast Diseases: Preliminary report of breast clinic. J Coll Physician Surg Park 2001; 11: 497-500.
Akhator A. Benign Breast masses in Nigeria. Nigerian J Surg Sci 2007; 17: 105- 108.
Meechan GT, Collins JP, Moss-Morris RE, Petre KJ. Who is not reassured following benign diagnosis of breast symptoms? Psycho-Oncology 2005; 14: 239-246.
Sainsbury JR, Anderson TJ, Morgan DAC. ABC of breast disease – Breast cancer. BMJ 2000; 321: 745-750.
Adebamowo CA, Ajayi OO. Breast cancer in Nigeria. West Afr J Med 2000; 10: 179- 191.
Tabar L, Vitak B, Chen HHT et al. Beyond randomized control trials: organized mammographic screening substantially reduces breast cancer mortality. Cancer 2001; 91: 1724-1731.
Ihekwaba FN. Benign Breast disease in Nigerian women: a study of 657 patients. J.R. Coll. Surg. Edin 1994; 39: 280-283.
Ohene-Yeboah M, Amaning EP. Spectrum of complaints presented at a specialist breast clinic in Kumasi, Ghana. Ghana Medical Journal 2008; 42: 110-112.
Newton P, Hannay DR, Laver R. The presentation and management of female breast symptoms in general practice in Sheffield. Family Practice 1999; 16: 360-365.
RichardsMA,WestcombeAM,LoveSBet al. Influence of delay on survival in patients with breast cancer: a systematic review. Lancet 1999; 353: 1119-1126.
Norsati C, Crayford T, Roberts JV et al. Delay in presentation of symptomatic referrals to a breast clinic: patient and system factors. British Journal of Cancer 2000; 82: 742-748. doi: 10.1054/bjoc.1999.0990.
Wetzig NR. Mastalgia; a 3 year Australian Study. Aust N Z J Surg. 1994; 64: 329-331.
Dixon JM, Mansel RE. Symptoms, assessment and guidelines for referral. ABC of breast diseases. BMJ 1994; 309: 722-726
DillonMF,ShahR,NazriM,HillDK.The role of major duct excision and microdochectomy in the detection of breast carcinoma. BMC-Cancer 2006; 6: 164-170.
Soomro SA, Mohammad N, Mohammad D, Rehman K. Nipple Discharge: Results of Microdochectomy. Parkistan Journal of Surgery 2008; 24: 185-187.
ChiedoziLC,El-HagIA,KollurSM.Breast diseases in the Northern region of Saudi Arabia. Saudi Med J 2003; 26: 623-627.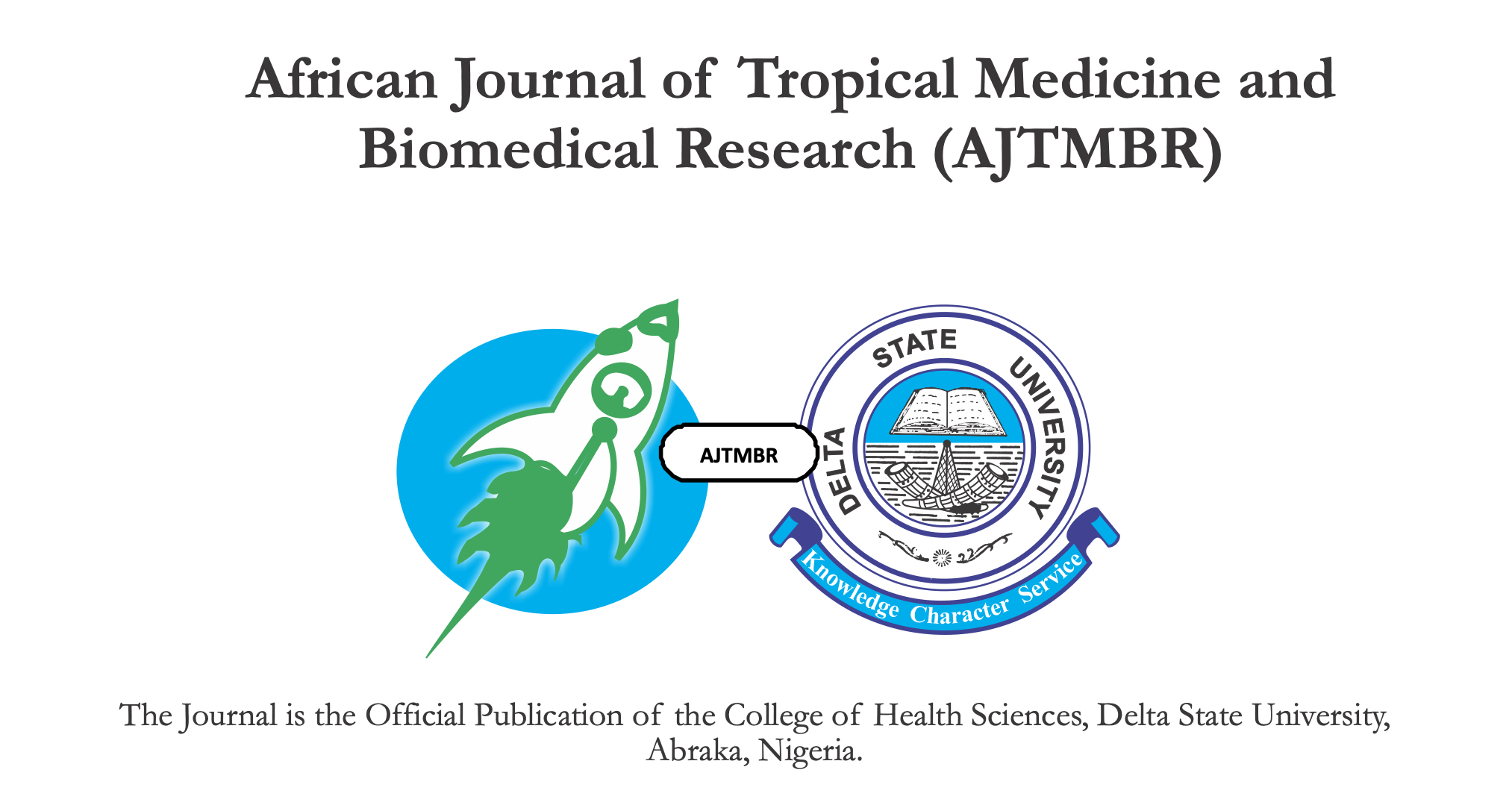 Downloads
How to Cite
1.
Akhator A, P. Oside C. Presentation of Breast Diseases in Warri, Nigeria. AJTMBR [Internet]. 2020 Oct. 31 [cited 2023 Mar. 24];1(1):22-6. Available from: https://ajtmbr.org.ng/index.php/home/article/view/4
Section
ORIGINAL ARTICLES
License
This work is licensed under a Creative Commons Attribution-NoDerivatives 4.0 International License.
The data collected from registered and non-registered users of this journal falls within the scope of the standard functioning of peer-reviewed journals. It includes information that makes communication possible for the editorial process; it is used to informs readers about the authorship and editing of content; it enables collecting aggregated data on readership behaviors, as well as tracking geopolitical and social elements of scholarly communication.
This journal's editorial team uses this data to guide its work in publishing and improving this journal. Data that will assist in developing this publishing platform may be shared with its developer Public Knowledge Project in an anonymized and aggregated form, with appropriate exceptions such as article metrics. The data will not be sold by this journal or PKP nor will it be used for purposes other than those stated here. The authors published in this journal are responsible for the human subject data that figures in the research reported here.
Those involved in editing this journal seek to be compliant with industry standards for data privacy, including the European Union's General Data Protection Regulation (GDPR) provision for "data subject rights" that include (a) breach notification; (b) right of access; (c) the right to be forgotten; (d) data portability; and (e) privacy by design. The GDPR also allows for the recognition of "the public interest in the availability of the data," which has a particular saliency for those involved in maintaining, with the greatest integrity possible, the public record of scholarly publishing.