Role of Tympanometry in the Diagnosis of Hearing Impairment in Children with Otitis Media and Effusion
Keywords:
Tympanometry, Otitis Media with Effusion, Hearing Impairment
Abstract
Background: To determine if Tympanometry can be used to diagnose hearing impairment in children with otitis media with effusion.
Method: A six month prospective study of school children aged between 5 and 7 years in the selected primary schools. Techniques of data collection included otoscopy, tympanometry and screening audiometry.
Results: Showed that tympanometry correctly identified cases without hearing impairment. Conclusion: That tympanometry may be suggested as screening tool for younger children with Otitis Media with Effusion especially in developing countries thereby reducing cost implications tor these patients.
References
Dempster JH. Mackenzie KTympanometry in the detection of hearing impairments associated with otitis media with effusion. Clin Otolaryngol Allied Sciences 1991 Apr(2): 157-9
F.O. Ogisi Audiometric and Tympanometric screening in Nigerian School children. A comparative study. Asian Journal of clinical sciences 1988; 8 (3): 87-91
S.G. Kazanas, A.R.Maw Tympanometry, Stapedius reflex and hearing impairment in children with Otitis Media with Effusion. 1994 Acta Otolaryngologica Vol 114:410-414
Fiellau-Nikolajsen M. Tympanometric Prediction of the Magnitude of Hearing loss in Pre-School Children with Secretory Otitis Media. 1983 Scand Audiol Suppl 17:68-72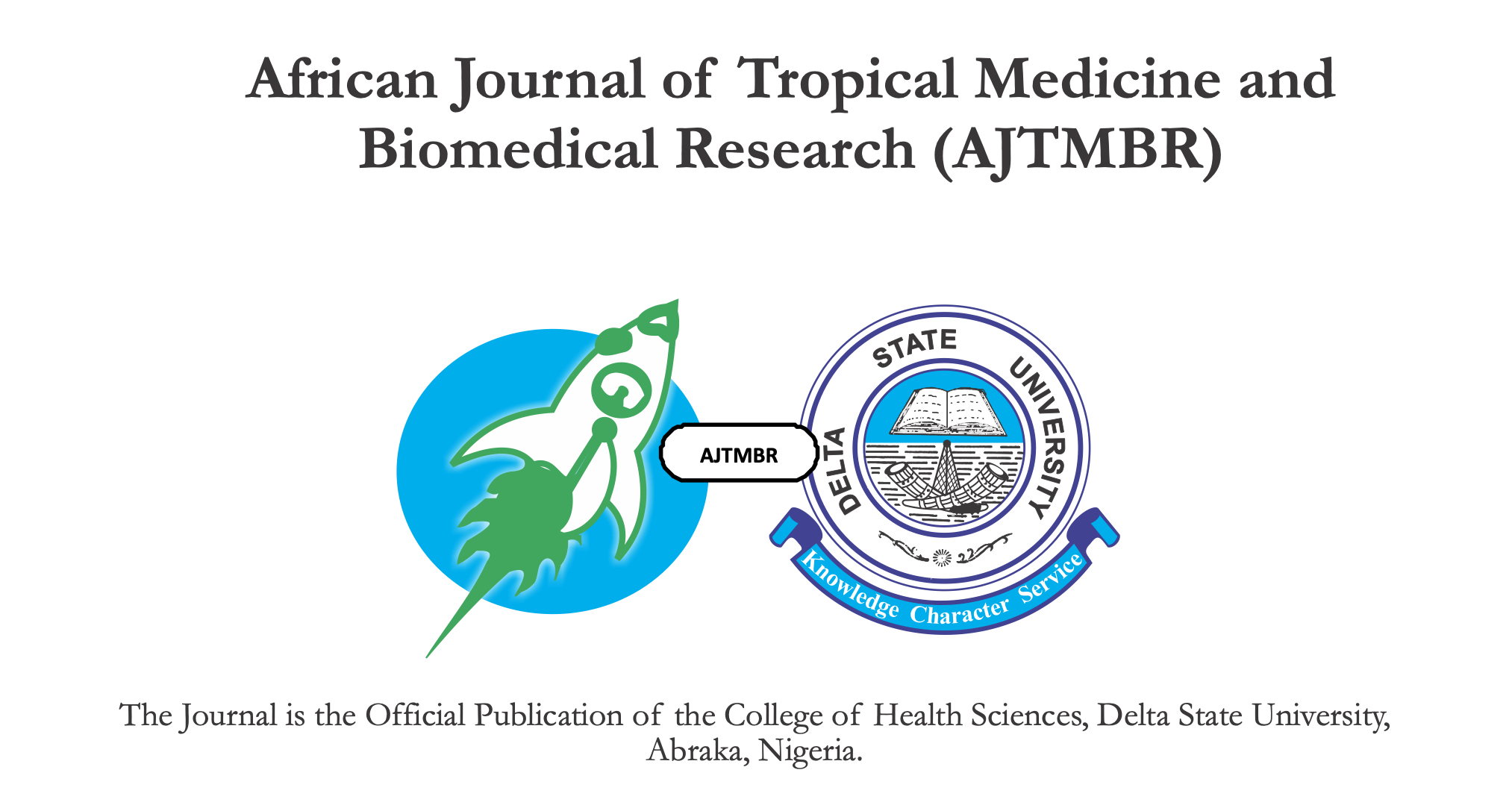 Downloads
How to Cite
1.
Okolugbo, NE. Role of Tympanometry in the Diagnosis of Hearing Impairment in Children with Otitis Media and Effusion. AJTMBR [Internet]. 2020 Nov. 3 [cited 2023 Mar. 24];1(4):37-40. Available from: https://ajtmbr.org.ng/index.php/home/article/view/26
Section
ORIGINAL ARTICLES
License
This work is licensed under a Creative Commons Attribution-NoDerivatives 4.0 International License.
The data collected from registered and non-registered users of this journal falls within the scope of the standard functioning of peer-reviewed journals. It includes information that makes communication possible for the editorial process; it is used to informs readers about the authorship and editing of content; it enables collecting aggregated data on readership behaviors, as well as tracking geopolitical and social elements of scholarly communication.
This journal's editorial team uses this data to guide its work in publishing and improving this journal. Data that will assist in developing this publishing platform may be shared with its developer Public Knowledge Project in an anonymized and aggregated form, with appropriate exceptions such as article metrics. The data will not be sold by this journal or PKP nor will it be used for purposes other than those stated here. The authors published in this journal are responsible for the human subject data that figures in the research reported here.
Those involved in editing this journal seek to be compliant with industry standards for data privacy, including the European Union's General Data Protection Regulation (GDPR) provision for "data subject rights" that include (a) breach notification; (b) right of access; (c) the right to be forgotten; (d) data portability; and (e) privacy by design. The GDPR also allows for the recognition of "the public interest in the availability of the data," which has a particular saliency for those involved in maintaining, with the greatest integrity possible, the public record of scholarly publishing.