Fruit Peels of Citrus Tangerina Attenuate the Oxidative Stress and Cell Damage Caused by Paracetamol on Wistar Rats
Antioxidant effect of Fruit Peels of Citrus Tangerina
Keywords:
paracetamol, Citrus tangerina, flavonoid, antioxidants
Abstract
Introduction: The regulation of the physiological processes in the body is one of the vital roles of the liver. Hepatic damage or liver dysfunction is a major health concern in the society. the need to explore alternative drugs for the treatment of hepatic diseases necessitated the present study of the effect of fruit peels extract of Citrus tangerina on paracetamol-induced hepatotoxicity in Wistar rats.
Materials and methods: Animals were grouped as follows: group I received normal diet, group II was given paracetamol 500 mg/kg/day, groups III and IV received fruit peel extracts of Citrus tangerina at 200 and 400 mg/kg/day respectively, while group V received silymarin 100 mg/kg/day (standard drug). Groups III-V were simultaneously administered paracetamol 500 mg/kg/day to induce hepatotoxicity. All drugs were given orally. At the end of a 7-days experimental period, the animals' serum and liver were obtained for biochemical and histopathological analyses.
Results: Results of this study showed that paracetamol dosing increased serum AST (aspartate transaminase), ALT (alanine transaminase) and ALP (alkaline phosphatase), as well as decreased antioxidant enzymes. Treatment with C. tangerina fruit peel extract significantly reversed paracetamol hepatotoxic effect in a dose-dependent manner.
Conclusion: This study suggests that C. tangerina fruit peel extract possesses antioxidant property and attenuates liver damage induced by paracetamol in Wistar rats.
References
Kumar G, Banu GS, Pappa PV, Sundararajan M, Pandian MR. Hepatoprotective
activity of Trianthema portulacastrum L. against paracetamol and thioacetamide
intoxication in albino rats. J Ethnopharmacol 2004; 92(1): 37-40
Hodgman MJ, Garrard AR. A review of acetaminophen poisoning. Crit Care
Clin 2012; 28(4): 499-516.
Ramachandran A, Jaeschke H. Acetaminophen toxicity: Novel insights into
mechanisms and future perspectives. Gene Expr 2018; 18(1): 19-30.
Chun LJ, Tong MJ, Busuttil RW, Hiatt JR. Acetaminophen hepatotoxicity and acute liver failure. J Clin Gastroenterol 2009; 43: 342–349.
Zhao Z, Wei Q, Hua W, Liu Y, Liu X. Zhu Y.
Hepatoprotective effects of berberine on acetaminophen-induced hepatotoxicity in mice. Biomed Pharmacother 2018; 103: 1319-26.
Ekor M. The growing use of herbal medicines: issues relating to adverse reactions and challenges in monitoring safety. Front Pharmacol 2014; 4: 177.
Umeh VN, Ilodigwe EE, Ajaghaku DL, Erhirhie EO, Moke EG, Akah PA. Wound-healing Activity of the Aqueous Leaf Extract and Fractions of Ficus exasperate (Moraceae) and its Safety Evaluation on Albino Rats. J Tradit Complement Med 2014; 4(4): 246‑252
Emudainohwo JOT, Erhirhie EO, Moke EG, Edje KE. A Comprehensive Review on Ethno-Medicine, Phytochemistry and Ethnopharmacology of Chrysophyllum albidum. J Adv Med Pharm Sci 2015; 3(4): 147-154
Ojezele MO, Moke EG, Onyesom I. Impact of generic antimalarial or Phyllanthus amarus and vitamin co-administration on antioxidant status of experimental mice infested with Plasmodium berghei. Beni-Suef Univ J Basic Appl Sci 2017; 6: 260-265
Anachuna KK, Oyem CJ, Nwogueze BC, Asiwe JN. Glucose lowering effects and histomorphological changes of Vernonia amygdalina on pancreatic compromised wistar rats using alloxan monohydrate. Trop J Health Sci 2018; 25(2): 27-31
Issa MT, Agbon AN, Balogun SU, Mahdi O, Bobbo KA, Ayegbusi FO. Hepatoprotective effect of methanol fruit pulp extract of Musa paradisiaca on carbon tetrachloride-induced liver toxicity in Wistar rats. J Exp Clin Anat 2018; 17: 1-7
Ben-Azu B, Aderibigbe AO, Omogbiya IA, Ajayi AM, Iwalewa EO. Morin Pretreatment Attenuates Schizophrenia-Like Behaviors in Experimental Animal Models. Drug Res (Stuttg) 2018; 68(03): 159-167.
Moke EG, Oghoghovwe I, Ahante E. The Effect of Omega® Roots + Ginseng Aloe Vera, a Nigerian Herbal Mixture, on Haematological Parameters of Normal Experimental Rats. J Drug Deliv Ther 2018; 8(3): 29-31
Erhirhie EO, Emeghebo CN, Ilodigwe EE, Ajaghaku DL, Umeokoli BO, Eze PM, Ngwoke KG, Chiedu Okoye FBG. Dryopteris filix-mas (L.) Schott ethanolic leaf extract and fractions exhibited profound anti-inflammatory activity. Avicenna J Phytomed 2019; 9(4): 396-409.
Ruiz-Reyes SG, Villarreal-La Torre VE, Silva-Correa CR, Sagástegui Guarniz
WA, Cruzado-Razco JL, Gamarra-Sánchez CD, et al. Hepatoprotective Activity of Cordia lutea Lam Flower Extracts Against Paracetamol-Induced Hepatotoxicity in Rats. Pharmacog J 2021; 13(2): 309-316.
Aruoma OI, Landes B, Ramful-Baboolall D, Bourdon E, Neergheen-Bhujun V, Wagner K, Bahorun T. Functional benefits of citrus fruits in the management of diabetes. Prev Med 2012; 54: S12–S16.
Lv X, Zhao S, Ning Z, Zeng H, Shu Y, Tao O, Xiao C, Lu C, Liu Y. Citrus fruits as a treasure trove of active natural metabolites that potentially provide benefits for human health. Chem Cent J 2015; 9: 68.
Malacrida CR, Kimura M, Jorge N. Phytochemicals and antioxidant activity of Citrus seed oils. Food Sci. Techmol. Res 2012; 18(3): 399-404.
Oikeh EI, Omoregie ES, Oviasogie FE, Oriakhi K. Phytochemical, antimicrobial and antioxidant activities of different Citrus juice concentrates. Food Sci Nutr 2016; 4(1): 103-109.
Das A, Borthakur Mk. Hepatoprotective Activity of Chenopodium Album Linn. Against Paracetamol Induced Liver Damage in Albino Rats. IJPSR 2020; 11(11): 5605-5610
Misra HP, Fridovich I. The role of superoxide in the autoxidation of Epinephrine and simple assay for superoxide dismutase. J Biol Chem 1972; 27: 3170.
Sinha AK. Colorimetric assay of catalase. Anal Biochem 1972; 47: 389-394.
Gutteridge JM, Wilkins S. Copper dependent hydroxyl radical damage to ascorbic acid: formation of thiobarbituric acid reactive product. FEBS Letts 1982; 137: 327-330.
Reitman S, Frankel S. A Colorimetric method for the determination of serum glutamic oxalacetic and glutamic pyruvic transaminases. Am J Clin Pathol 1957; 28: 56-63.
Roy AV. Rapid method for determining alkaline phosphatase activity in serum with thymolphthalein monophosphate. Clin Chem 1970; 21: 5.
Adetutu A, Owoade A. Hepatoprotective and antioxidant effects of Hibiscus polyphenol rich extract (HPE) against carbon tetrachloride (CCl4)-induced damage in rats. BJMMR 2013; 3(4): 1574-86.
Mitchell JR, Jollow DJ, Potter WZ, Gillette JR, Brodie BB. Acetaminophen-induced hepatic necrosis. IV. Protective role of glutathione. J Pharmacol Exp Ther 1973; 187(1): 211-217.
Morazzoni P, Bombardelli E. Silybum marianum. Fitoterapia 1995; 66: 3.
Fiebrich G, Koch H. Silymarin, an inhibitor of lipoxygenase. Experientia 1979; 35:148-150.
Muzes G. Effect of the bioflavonoid silymarin on the in vitro activity and expression of superoxide dismutase (SOD) enzyme. Acta Physiol Hungarica 1991; 78: 3-9.
Fu S, Wu D, Jiang W, Li J, Long J, Jia C, Zhou T. Molecular Biomarkers in Drug-Induced Liver Injury: Challenges and Future Perspectives. Front Pharmacol 2020; 10: 1667.
Cichoż-Lach H, Michalak A. Oxidative stress as a crucial factor in liver diseases. World J Gastroenterol 2014; 20(25): 8082-91.
Cotelle N. Role of flavonoids in oxidative stress. Curr Top Med Chem 2001; 1: 569–590.
Mari M, Colell A, Morales A, von Montfort C, Garcia-Ruiz C, Fernandez-Checa JC. Redox control of liver function in health and disease. Antioxid Redox Sign 2010; 12: 1295–1331.
Kurutas EB. The importance of antioxidants which play the role in cellular response against oxidative/nitrosative stress: current state. Nutr J 2016; 15(1): 71.
He L, He T, Farrar S, Ji L, Liu T, Ma X. Antioxidants Maintain Cellular Redox Homeostasis by Elimination of Reactive Oxygen Species. Cell Physiol Biochem 2017; 44(2): 532-553.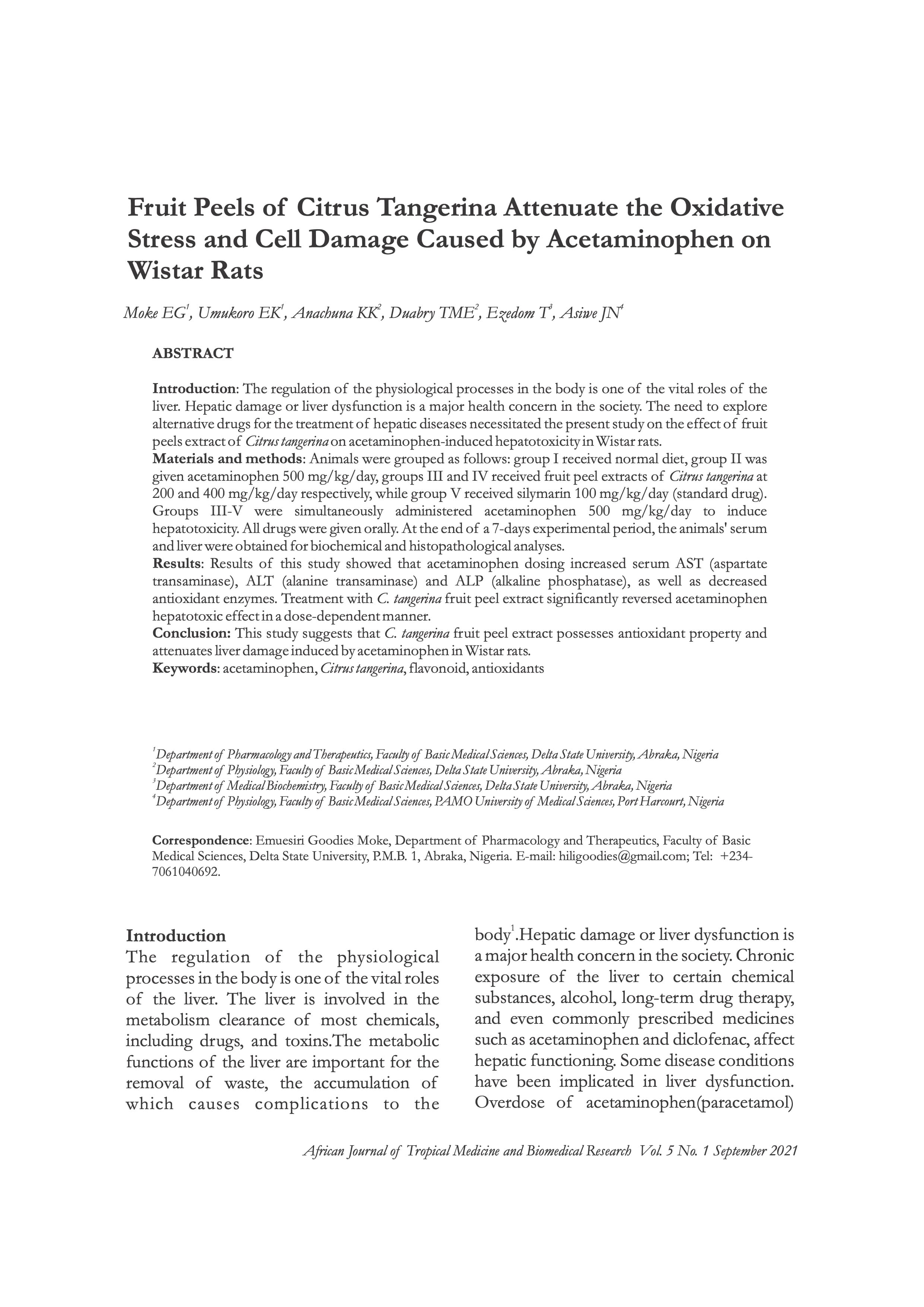 Downloads
How to Cite
1.
Moke EG, Umukoro EK, Anachuna KK, Duabry TME, Ezedom T, Asiwe JN. Fruit Peels of Citrus Tangerina Attenuate the Oxidative Stress and Cell Damage Caused by Paracetamol on Wistar Rats : Antioxidant effect of Fruit Peels of Citrus Tangerina. AJTMBR [Internet]. 2022 May 9 [cited 2023 Oct. 1];5(1):46-53. Available from: https://ajtmbr.org.ng/index.php/home/article/view/63
Section
ORIGINAL ARTICLES
License
Copyright (c) 2022 African Journal of Tropical Medicine and Biomedical Research
This work is licensed under a Creative Commons Attribution-ShareAlike 4.0 International License.
The data collected from registered and non-registered users of this journal falls within the scope of the standard functioning of peer-reviewed journals. It includes information that makes communication possible for the editorial process; it is used to informs readers about the authorship and editing of content; it enables collecting aggregated data on readership behaviors, as well as tracking geopolitical and social elements of scholarly communication.
This journal's editorial team uses this data to guide its work in publishing and improving this journal. Data that will assist in developing this publishing platform may be shared with its developer Public Knowledge Project in an anonymized and aggregated form, with appropriate exceptions such as article metrics. The data will not be sold by this journal or PKP nor will it be used for purposes other than those stated here. The authors published in this journal are responsible for the human subject data that figures in the research reported here.
Those involved in editing this journal seek to be compliant with industry standards for data privacy, including the European Union's General Data Protection Regulation (GDPR) provision for "data subject rights" that include (a) breach notification; (b) right of access; (c) the right to be forgotten; (d) data portability; and (e) privacy by design. The GDPR also allows for the recognition of "the public interest in the availability of the data," which has a particular saliency for those involved in maintaining, with the greatest integrity possible, the public record of scholarly publishing.