Assessment Of Haematological And Antioxidants Changes In Male Albino Wistar Rats Treated With Tramadol
Keywords:
Tramadol, antioxidants, rat
Abstract
Abstract
Introduction
Illicit drug use disorders are a major public health burden that contributes significantly to the global burden of disease and tramadol is one of the most common illicit psychoactive substances being abused especially amongst the young adults. This research aims to assess the haematological and antioxidants activities of male wistar rats treated with tramadol.
Materials and Methods
Thirty adult male Wistar rats weighing 120-180 g were selected for the study and was randomized into 6 groups. Group 1 was not treated within the period of the study before sacrificing, Group 2 to 5 received 30 mg/kg body weight of tramadol for 7, 14, 21 and 42 days respectively while treatment for group 6 was withdrawn for 3 weeks after 21 days treatment period before sacrificing. The animal's Brain, Liver, kidney and Testis were excised for biochemical analysis. Generated data were analyzed using SPSS package and results expressed as mean ± SEM.
Results
Results obtained showed significant decrease in the haemtololgical parameters as well as in the WBC count, Catalase, SOD and Glutathione activities in the chronic tramadol-treated rats when compared to the normal control at p<0.05. This study also revealed that chronic tramadol use increases the level ofMDA significantly when compared with the non-treated group.
Conclusion
Tramadol consumption lowers RBC count, haemoglobin level, PCV, platelet count, WBC count, CAT, SOD, and GSH activities while significantly raising MDA levels. Therefore tramadol should only be used under medical supervision and only on prescription, avoiding indiscriminate and long-term.
References
Celik I and Suzek H. The hematological effects of methyl parathionin rats. J. Haz. Mat 2008; 153:1117-1121.
Oyedemi, S.O., Bradley, G. and Afolayan, A.J. In-vitro and -vivo antioxidant activities of aqueous extract of Strychnos henningsii Gilg. Afr. J. Pharm. Pharmacol 2010; 4: 70-78.
Soetan, K. O., Akinrinde, A. S., and Ajibade, T. O. Preliminary studies on the haematologicalparameters of cockerels fed raw and processed guinea corn (Sorghum bicolor): Proceedings of 38th Annual Conference of Nigerian Society for Animal Production 2013; 49-52
Abiodun Olusoji Owoade, Adewale Adetutu and Olubukola Sinbad Olorunnisola. Hematological and Biochemical Changes in Blood, Liver and Kidney Tissues under the Effect of Tramadol Treatment. J Alcohol Drug Depend 2019; 7:5
Schroeder, J. W.; Bauer, M. L.; Soto-Navarro, S. A. Wet corn gluten feed fed fresh or stored and supplemented with rumen undegradable protein in the diets of lactating dairy cows. Professional Animal Scientist 2005; 21 (4): 254-262
Hosseini-Sharifabad A, Rabbani M, Sharifzadeh M, Bagheri N. Acute and chronic tramadol administration impair spatial memory in rat. Research in pharmaceutical sciences 2016; 11:49
Kruidenier L, van Meeteren ME, Kuiper I. Attenuated mild colonic inflammation and improved survival from severe DSS-colitis of transgenic Cu/Zn-SOD mice. Free Radic Biol Med 2003; 34:753–765.
Pompella, A. Visvikis, A. Paolicchi, V.D. Tata, A.F. Casini. The changing faces of glutathione, a cellular protagonist Biochem. Pharmacol 2003; 66:1499-1503
Francesca Silvagno, Annamaria Vernone and Gian Piero Pescarmona. The Role of Glutathione in Protecting against the Severe Inflammatory Response Triggered by COVID-19. Antioxidants 2020; 9, (624): 1-16
Asima Bhattacharyya, Ranajoy Chattopadhyay, Sankar Mitra, and Sheila E. Crowe. Oxidative Stress: An Essential Factor in the Pathogenesis of Gastrointestinal Mucosal Diseases. Physiol Rev 2014; 94(2): 329–354.
Mahmoud MF, Gamal S, Shaheen MA, El-Fayoumi HM. The effects of tramadol on hepatic ischemia/reperfusion injury in rats. Indian J Pharmacol 2016; 48(3):275-280.
Ellman GL. Tissue sulfhydryl groups. Arch. Biochem. Biophys 1959; 82: 70-77
Beutler, E., Duron, O. and Kelly, B.M. Improved Method for the Determination of Blood Glutathione. Journal of Laboratory and Clinical Medicine 1963; 61, 882-888.
Vivian Ogwu. A modified catalase assay suitable for a plate reader and for the analysis of brain cell cultures. Journal of Neuroscience Methods 1996; 670(1): 53-56.
Misra HP and Fridovich I. The role of superoxide ion in the antioxidation of epinephrine and a simple assay for superoxide dismutase. J Biol Chem 1972; 247:3170–3175.
Gutteridge JM and Wilkins S. Copper-dependent hydroxyl radical damage to ascorbic acid: formation of a thiobarbituric acid-reactive product. FEBS Lett. 1982; 25; 137(2):327-330.
Ossai N.R, Ojieh E.A, Nwogueze C.B, Olowe G.T and Ajayi E.R. Ameliorative potentials of methanolic stem bark extract of nephrolepis undulate in streptozotocin-induced diabetic wistar rats. Plant Cell Biotechnology and Molecular Biology 2021; 22(15&16):41-53
Baselt RC. Disposition of toxic drugs and chemicals in man. Seal Beach, California: Biomedical Publications 2011; 1712-1715
Grond S and Sablotzki A. Clinical pharmacology of tramadol. Clin Pharmacokinet 2004; 43(13): 879-923
Randall C and Crane J. "Tramadol deaths in Northern Ireland: a review of cases from 1996 to 2012". Journal of Forensic and Legal Medicine. 2014; 23: 32–36.
Fischer, Jnos and Ganellin, C. Robin. Analogue-based Drug Discovery. John Wiley & Sons. 2006; p. 528.
Singhal P C, Sharma P, Sanwal V, Prassad A, Kapasi A, Ranjan R, Franki N, Reddy K, and Gibbons N. Morphine modulates proliferation of kidney fibroblasts. Kidney Int 1998; 53: 350–357.
Shadnia S, Soltaninejad K, Heydari K, Sasanian G, Abdollahi M. Tramadol intoxication: a review of 114 cases. Human and experimental toxicology 2008; 27(3):201-205.
Raffa RB, Buschmann H, Christoph T, Eichenbaum G, Englberger W, Flores CM. Mechanistic and functional differentiation of tapentadol and tramadol. Expert Opin Pharmacother 2012; 13(10):1437-1449.
Ide S, Minami M, Ishihara K, Uhl G.R, Sora I, Ikeda K. Mu opioid receptor dependent and independent components in effects of tramadol, Neuropharmacology 2006; 51:651–658.
El-Gaafarawi I. Biochemical toxicity induced by tramadol administration in male rats. Egyptian J Hospital Med 2006; 23:353 –362.
Mohammed, Hanaa and Mahmoud, Ayman. Chronic exposure to the opioid tramadol induces oxidative damage, inflammation and apoptosis, and alters cerebral monoamine neurotransmitters in rats. Biomedicine and Pharmacotherapy 2019; 110. 239-247. 10.
Brondani, J. T.; Luna, S. P.; Marcello, G. C. and Padovani, C. R. "Perioperative administration of vedaprofen, tramadol or their combination does not interfere with platelet aggregation, bleeding time and biochemical variables in cats". Journal of Feline Medicine and Surgery 2009; 11(6):503-509.
Işik, B., Arslan, M., Ozsoylar, O. and Akçabay, M. "Effects of preoperative lornoxicam versus tramadol on postoperative pain and adverse effects in adult tonsillectomy patients". Agri 2009; 21(3):113-120.
Hanem Mohammed Roshdy, Rania Hamed Abdel-Rahman, Hanan Azzam and Amal Abd El-Salam El-Bakary. Repeated Tramadol Administration Induced Bleeding in Albino Rats. Mansoura J. Forens. Med. Clin. Toxicol 2018; 26(2): 169 – 177.
Nna VU, Victor O, Oka AL, Udefa EO, Ofutet OE and Ofem. High Doses of PDE5 inhibitors and tramadol reversibly alters haematological parameters in rats. Journal of Applied Pharmaceutical Science 2016; 6(04): 086-092.
Aldalou, AR, Abdel-Aziz I. and Shahwan O. Impact of giving sildenafil (viagra) / tramadol (tramal) combination on the blood of domestic rabbits. Journal of Science 2014; 4(3): 162-169.
Udegbunam RI, Okereke HN. and Udegbunam SO. Single versus repeated tramadol injectionin laparotomized albino rats: comparison of effects on hematology, serum biochemical parameters, and bodyweight gain. Journal of Advanced Veterinary and Animal Research 2015; 2(3): 316-320.
Goeringer, K.E; Barry K.; logan, and Gary D. Christian. Identification of Tramadol and its metabolite in blood from drug related death and drug impaired-drivers. Journal of Analytical Toxicology 1997; 21:529-537.
Mohammed A. Aldiwan; Adel M. Hassan Alzobidy; Mohammed A. Younis. The effect of Tramadol on some blood and biochemical parameters of male rats (Rattus norvegicus). Baghdad Science Journal 2015; 12(3) 496 -502.
Abiodun Olusoji Owoade, Adewale Adetutu and Olubukola Sinbad Olorunnisola. Hematological and Biochemical Changes in Blood, Liver and Kidney Tissues under the Effect of Tramadol Treatment. J Alcohol Drug Depend 2019; 7(5): 1 -7
Gipson DC and Kalivas WP. Neural Basis of Drug Addiction. In: De Micheli D, Andrade MAL, da Silva AE, de Souza Formigoni OML, eds. Drug Abuse in Adolescence: Neurobiological, Cognitive, and Psychological Issues. Switzerland: Cham: Springer International Publishing 2016; 37–56.
Cadet JL, Bisagno V, Milroy CM. Neuropathology of substance use disorders. Acta Neuropathol 2014; 127(1):91–107.
Cunha–Oliveira T, Rego AC, Oliveira CR. Cellular and molecular mechanisms involved in the Nafea OE et al. Int J Sci Rep 2016; 2(7):143-154.
Elyazji, N. R., I. Abdel-Aziz, A. Aldalou, and O. Shahwan. The effects of tramadol hydrochloride administration on the hematological and biochemical profiles of domestic male rabbits. IUG J Natural and Eng Studies 2013; 21: 51-65.
Akhtardanesh, B., Sharifi, H., Rasodi, R. and Aghazamani, M. Evaluation of haematological and biochemical changes after short term tramadol usage in healthy dogs. Iranian Journal of Veterinary Medicine 2014; 8(1): 41-45.
Nna VU and Osim EE. Testicular toxicity following separate and combined administration of PDE5 inhibitors and opioid: Assessment of recovery following their withdrawal 2016; Andrologia;
Ghoneim, F.M., Khalaf, H.A., Elsamanoudy, A.Z and Helaly, A.N. "Effect of chronic usage of tramadol on motor cerebral cortex and testicular tissues of adult male albino rats and the effect of its withdrawal: histological, immunohistochemical and biochemical study," International Journal of Clinical and Experimental Pathology 2014; 7(11); 7323–7341.
Ahmed MA and Kurkar A. Effects of opioid (tramadol) treatment on testicular functions in adult male rats: The role of nitric oxide and oxidative stress. Clin Exp Pharmacol Physiol 2014; 41:317–23
El-Gaafarawi I.I. Biochemical toxicity induced by tramadol administration in male rats. Egypt J Hosp Med 2006; 23:353–362
Haytham A. Ali, Mohamed Afifi, Taghred M. Saber, Arwa A Makki, A.T. Keshta, Mohammed Baeshen and Ammar AL-Farga. Neurotoxic, Hepatotoxic and Nephrotoxic Effects of Tramadol Administration in Rats. J Mol Neurosci. 2020 https://doi.org/10.1007
Mansour, MA. Protective effects of thymoquinone and desferrioxamine against hepatotoxicity of carbon tetrachloride in mice. Life Sci 2000; 66(26): 2583-2591
Elwy, A.M. and Tab, G. Effects of Chronic Usage of Tramadol, Acetaminophen and Tramaceton Some Biochemical and Immunological Changes in Male Rats. J Drug Res Egypt 2014; 35(1), 63-71.
Nafea, OE., ElKhishin, IA., Awad, OA., Mohamed, DA. A study of the neurotoxic effects of tramadol and cannabis in adolescent male albino rats. Int J. Sci Rep 2016; 2(7): 143-154.
Dubner R. A bibliometric analysis of the pain Journal as a representation of progress and trends in the field. Pain 2009; 142 (1–2):9–10.
World Medical Association. "Declaration of Helsinki: Ethical Principles for Medical Research Involving Human Subjects". JAMA 2013; 310 (20): 2191–2194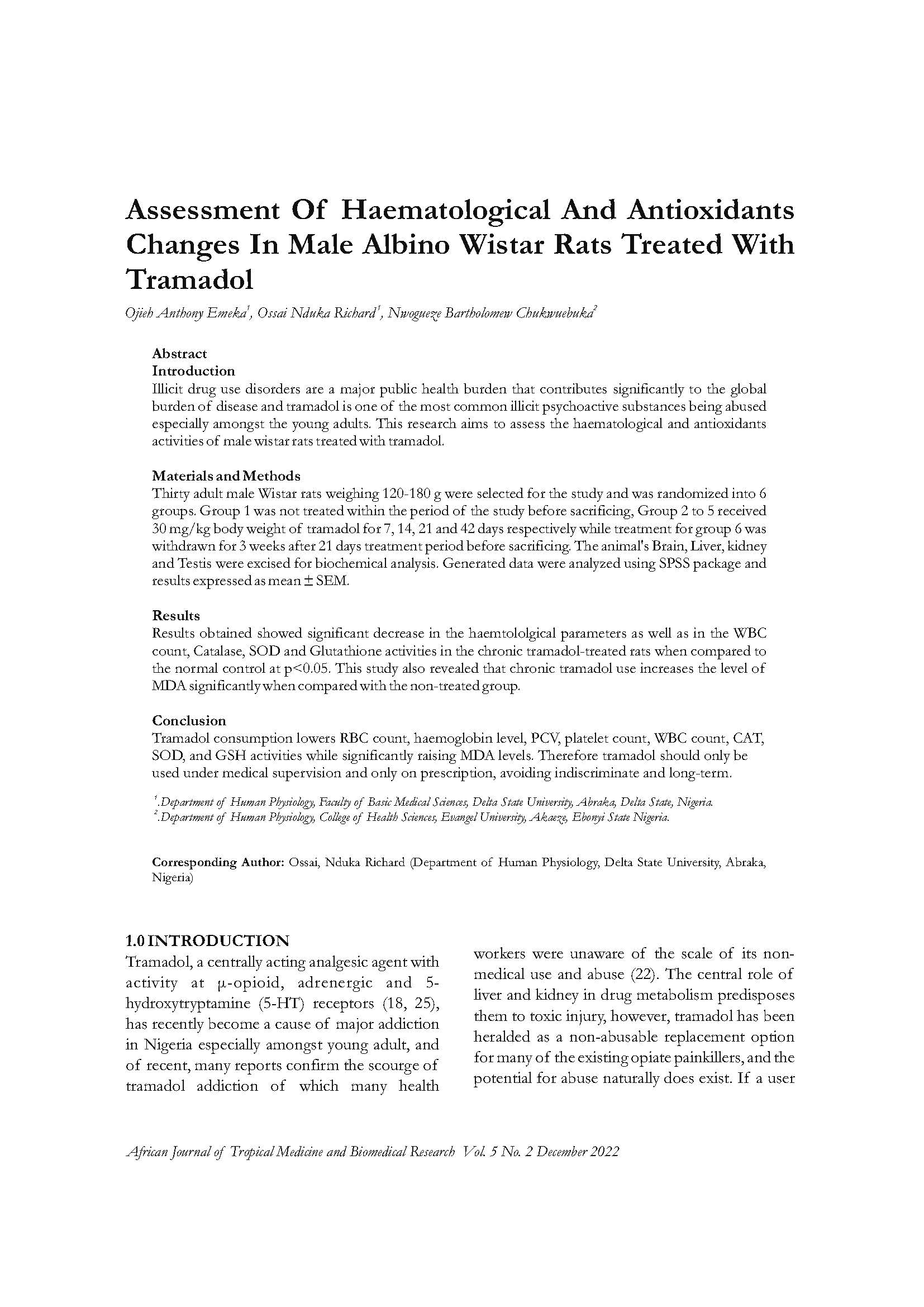 Downloads
How to Cite
1.
Ossai NR, Ojieh EA, Bartholomew Chukwuebuka N. Assessment Of Haematological And Antioxidants Changes In Male Albino Wistar Rats Treated With Tramadol. AJTMBR [Internet]. 2022 Jan. 1 [cited 2023 Oct. 1];5(2):30-42. Available from: https://ajtmbr.org.ng/index.php/home/article/view/68
Section
ORIGINAL ARTICLES
License
Copyright (c) 2022 African Journal of Tropical Medicine and Biomedical Research
This work is licensed under a Creative Commons Attribution-ShareAlike 4.0 International License.
The data collected from registered and non-registered users of this journal falls within the scope of the standard functioning of peer-reviewed journals. It includes information that makes communication possible for the editorial process; it is used to informs readers about the authorship and editing of content; it enables collecting aggregated data on readership behaviors, as well as tracking geopolitical and social elements of scholarly communication.
This journal's editorial team uses this data to guide its work in publishing and improving this journal. Data that will assist in developing this publishing platform may be shared with its developer Public Knowledge Project in an anonymized and aggregated form, with appropriate exceptions such as article metrics. The data will not be sold by this journal or PKP nor will it be used for purposes other than those stated here. The authors published in this journal are responsible for the human subject data that figures in the research reported here.
Those involved in editing this journal seek to be compliant with industry standards for data privacy, including the European Union's General Data Protection Regulation (GDPR) provision for "data subject rights" that include (a) breach notification; (b) right of access; (c) the right to be forgotten; (d) data portability; and (e) privacy by design. The GDPR also allows for the recognition of "the public interest in the availability of the data," which has a particular saliency for those involved in maintaining, with the greatest integrity possible, the public record of scholarly publishing.