Obstetric Performance of Pregnant Diabetics in a Nigerian Tertiary Hospital
Keywords:
Obstetric performance, Pregnant diabetics
Abstract
Background: Diabetes mellitus is one of the common medical complications of pregnancy and it seems to be on the increase. The study was undertaken to assess the obstetric performance of pregnant diabetic patients in a Nigerian tertiary hospital, with a view to identifying relevant interventions that will lead to better outcome.
Methodology: A retrospective review of the service delivery records of all cases of pregnant diabetics seen over a 5-year period in the maternity unit of the University of Benin Teaching Hospital, Benin City, Nigeria.
Result: Thirty four cases of diabetics were managed within the period and the incidence was 0.7% of the total deliveries. The cases were predominantly (75%) gestational diabetes mellitus and 80% (27) of the patients were booked. They were mainly (85.3%) multiparous and about two-thirds of the parturients had combined dietary and insulin regime for treatment during the antenatal period. Theleadingmorbidities were candidiasis (63.6%), malaria (47.0%), urinary tract infection (41.2%), placenta previa (26.5%), preterm delivery (20.6%) and pre-eclampsia (18.2%). The caesarean section rate was high (53.0%). The maternal mortality rate was 5882/100,000 and the perinatal mortality rate was 147.1/1000 with a high perinatal morbidity rate.
Conclusion: A low incidence of diabetes is recorded, with high maternal infectious morbidity rates and a high caesarean section rate. The perinatal mortality were high and perinatal morbidity rate. Public health education, prompt booking and utilization of hospital facilities for antenatal care and supervised delivery by pregnant diabetics are recommended.
References
Janzen C, Greenspoon JS, Palmer SM. Diabetes Mellitus and Pregnancy. In: Current Obstetric and Gynecologic Diagnosis and Treatment. DeCherney AH & Nathan L (eds). 9th edition. Lange Medical Books/McGraw-Hill 2003; 326- 337.
Gillmer MDG, Hurley PA. Diabetes and endocrine disorders in pregnancy. In: Dewhurst's textbook of Obstetrics and Gynaecology for postgraduates. Keith Edmonds (ed). 6th edition. Blackwell sciences limited 1999, 197-209.
Moore TR. Diabetes mellitus and pregnancy. eMedicine Medscape's continually updated clinical reference, updated February 19 2010. WebMD professional.
Davis B, Bond D, Howat P, Sinha AK, Falhammar H. maternal and neonatal outcomes following diabetes in pregnancy in Far North Queensland, Australia. Aust N Z J Obstet Gynaecol 2009; 49 (4): 393-399.
Rackham O, Paize F, Weindiing Am. Cause of death in infants of women with pregestational diabetes and the relationship with glycaemic control. Postgrad med 2009; 121 (4): 26-32.
McIntyre IF, Thomae MK, Wong SF, Idris N, CallawayLK. Pregnancy in type 2 diabetes mellitus – problems and promises. Curr Diabetes Rev 2009; 5 (3): 190-200.
Olusanya O, Okpere E Ezimokhai M. The importance of social class in voluntary fertility control in developing country. West Afr J Med 1985; 4(4): 205- 212.
Remsberg KE, McKeown RE, McFarland KF, Irwin LS. Diabetes in pregnancy and caesarean delivery. Diabetes care. http//care.diabetesjournals.org.
Peticca P, keely EJ, Walker MC, Yang Q, Bottomley J. Pregnancy outcomes in diabetes subtypes: how do they compare? A province-based study of Ontario, 2005-2006. J Obstet Gynaecol Can 2009; 31 (6): 487-496.
Ozumba BC, Obi SN, Oli JM. Diabetes mellitus in pregnancy in an African population. Int J Gynaecol Obstet 2004; 84(2): 114-119.
Langer L, Conway DL, Berkus MD, Xenakis EM, Gonzales O. A comparison of glyburide and insulin in women with gestational diabetes mellitus. N Engl J Med 2000; 343: 1134-1138.
Balani J, Hyer SL, Rodin DA, Shehata H. Pregnancy outcome in women with gestational diabetes treated with metformin or insulin: a case control study. Diabet Med 2009; 26 (8): 798-802.
PegliaMJ,CoustanDR.Theuseoforal antidiabetic medications in gestational diabetes mellitus. Curr Diab Rep 2009; 9(4): 287-290.
Jayaram VK. Caesarean section – 5-year analysis. J Obstet Gynecol India 1996; 47: 57 -59.
Koigi-Kamau R, Kabare LW, Wanyoike- Gichuhi J. Incidence of wound infection after caesarean delivery in a district hospital in central Kenya. East Afr Med J 2005; 82(7): 358-362
Beattie PG, Rings TR, Hunter MF, Lake Y. Risk Factors for Wound Infection Following Caesarean Section. Aust NZ J Obstet Gynaecol 1994; 34 (4): 398-402.
Mastrogiannis DS, Spiliopoulos M, Mulla W. Homko CJ. Insulin resistance: the possible link between gestational diabetes mellitus and hypertensive disorders of pregnancy. Curr Diab Rep 2009; 9(4): 296- 302.
Otolorin EO, Famuyiwa OO, Bella AF, Dawodu AH, Adelusi B. Reproductive performance following active management of diabetic pregnancies at the University College Hospital, Ibadan, Nigeria. Afr J Med Med Sci 1985; 14(3-4):155-160.
Sun WJ, Yang HX. Maternal and fetal outcomes in pregnant women with abnormal glucose metabolism. Zhonghua Fu Chan Ke Za Zhi 2007; 42(6): 377-381.
Galindo A, Burguillo AG, Azriel S, Fuente Pde L. Outcome of fetuses in women with Pregestational diabetes mellitus. J Perinat Med 2006; 34(4): 323- 331.
Yang J, Cummings EA, O'connell C, Jangaard K. Fetal and neonatal outcomes of diabetic pregnancies. Obstet Gynaecol 2006; 108(3): 644-650.
KapoorN,SankaranS,HyerS,ShehataH. Diabetes in pregnancy: a review of current evidence. Curr Opin Obstet Gynaecol 2007; 19(6): 586-590.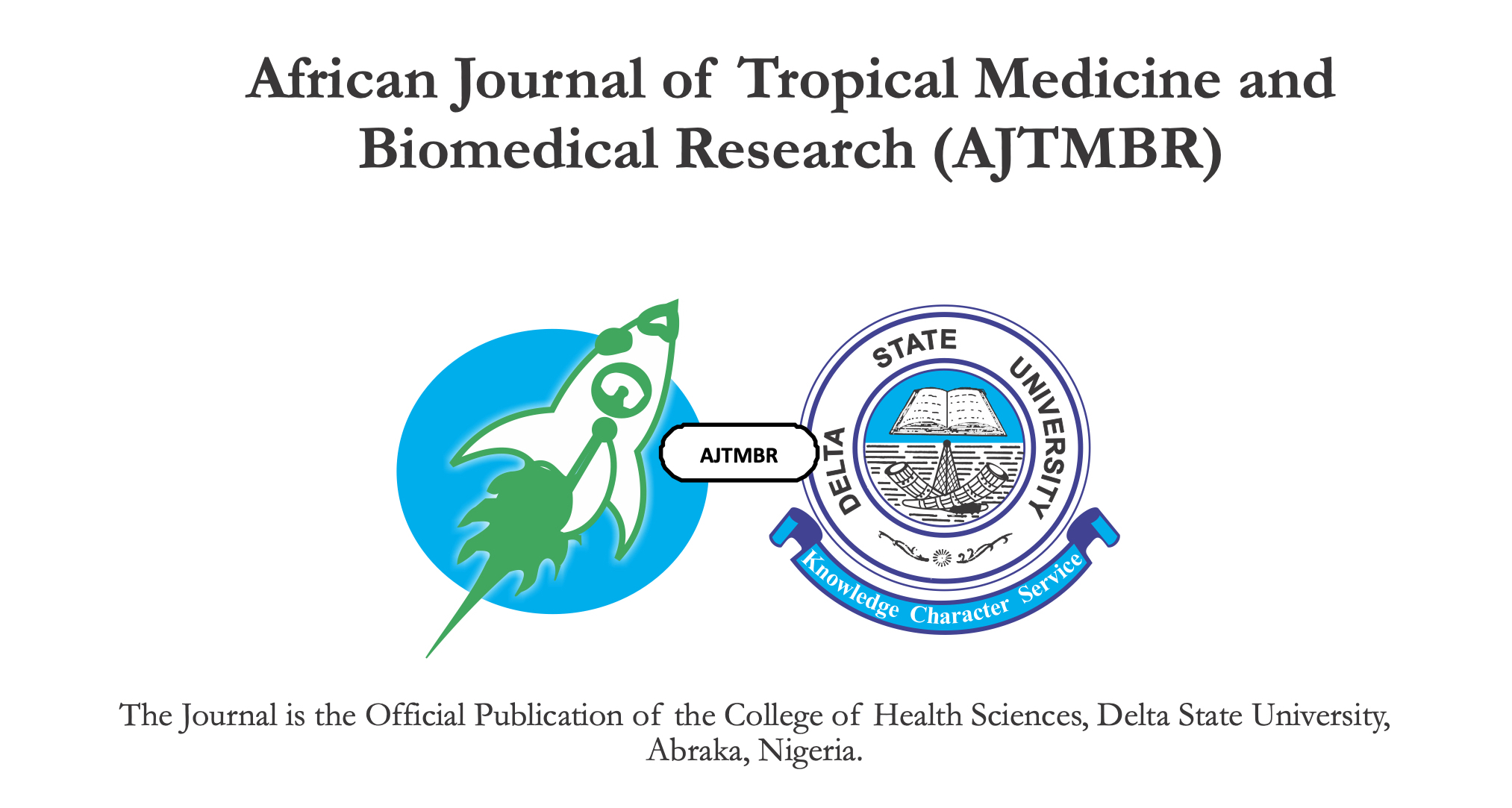 Downloads
How to Cite
1.
L O O-A, VW O-A, CO A, KN A, E A. Obstetric Performance of Pregnant Diabetics in a Nigerian Tertiary Hospital. AJTMBR [Internet]. 2020 Oct. 31 [cited 2023 Mar. 24];1(1):35-4. Available from: https://ajtmbr.org.ng/index.php/home/article/view/6
Section
ORIGINAL ARTICLES
License
This work is licensed under a Creative Commons Attribution-NoDerivatives 4.0 International License.
The data collected from registered and non-registered users of this journal falls within the scope of the standard functioning of peer-reviewed journals. It includes information that makes communication possible for the editorial process; it is used to informs readers about the authorship and editing of content; it enables collecting aggregated data on readership behaviors, as well as tracking geopolitical and social elements of scholarly communication.
This journal's editorial team uses this data to guide its work in publishing and improving this journal. Data that will assist in developing this publishing platform may be shared with its developer Public Knowledge Project in an anonymized and aggregated form, with appropriate exceptions such as article metrics. The data will not be sold by this journal or PKP nor will it be used for purposes other than those stated here. The authors published in this journal are responsible for the human subject data that figures in the research reported here.
Those involved in editing this journal seek to be compliant with industry standards for data privacy, including the European Union's General Data Protection Regulation (GDPR) provision for "data subject rights" that include (a) breach notification; (b) right of access; (c) the right to be forgotten; (d) data portability; and (e) privacy by design. The GDPR also allows for the recognition of "the public interest in the availability of the data," which has a particular saliency for those involved in maintaining, with the greatest integrity possible, the public record of scholarly publishing.