Male Factor Infertility in Low Resource Settings: Diagnostic and Treatment Barriers
Keywords:
Male factor infertility
References
Singh, A.J. Support for infertile couples. World Health Forum 17:176-177(1996) 2. Leke, R.J.I. et al. Regional and geographic
variations in infertility: Effects of e n v i r o n m e n t a l , c u l t u r a l , a n d socioeconomic factors. Environmental Health Perspectives Supplement 101(Suppl. 2):73-80 (1993).
Yeboah, E.D. et al. Etiological factors of male infertility in Africa. International Journal of Fertility 37(5):300-307 (1992);
World Health Organization. WHO Laboratory manual for the examination and processing of human semen, 5 edition. Cambridge: Cambridge University Press, 2010;
Olooto, W.E. Infertility in male; risk
(7416): 669672.
Irvine DS. Epidemiology and etiology of male infertility. Hum Reprod 1998; 13 (soppl 1): 33-44.
NwajiakuLA ,Mbachu II , Ikeako L. Prevalence, Clinical Pattern and Major Causes of Male Infertility in Nnewi, South East Nigeria: A Five Year Review.
factors, causes and management- A review J. Microbiol. Biotech. Res., 2012, 2 (4):641- 645.
"Men's Health - Male Factor Infertility". University of Utah Health Sciences Center. 2 0 0 3 - 0 4 - 0 1 . Ar chived from the original on 2007-07-04. Retrieved 2007-11- 21;
Brugh VM, Lipshultz LI (2004). "Male factor infertility". Medical Clinics of North A m e ri c a 8 8 ( 2 ) : 3 6 7 8 5 . d o i :10.1016/S0025- 7125(03)00150-0; A
male factor contributes
Hirsh. Male subfertility, BMJ, 2003, 327
AFRIMEDIC Journal 2012; 3: 16-19; 11. Idrisa A. Infertility. In: Kwawukume EY, Emuveyan EE (Eds). Comprehensive Gynaecology in the tropics. Accra Graphic packaging, 2005:333-343
Oluyemi Akinloye and Ernest J Truter . A review of management of infertility in Nigeria: framing the ethics of a national health policy. Int J Womens Health. 2011; 3: 265275.
Philip Teg-Nefaah Tabong1 and Philip Baba Adongo2. Infertility and childlessness: a qualitative study of the experiences of infertile couples in Northern Ghana. BMC Pregnancy and Childbirth 2013, 13:72.
Oladokun A, Arulogun O, Oladokun R, Moharson-Bello IO, Bamgboye EA, Adewole IF et al. Acceptability of child Adoption as management option for infertility in Nigeria: Evidence from Focus Group Discussions. Afr. J. Reprod. Health 2009; 13 [1]: 79-91.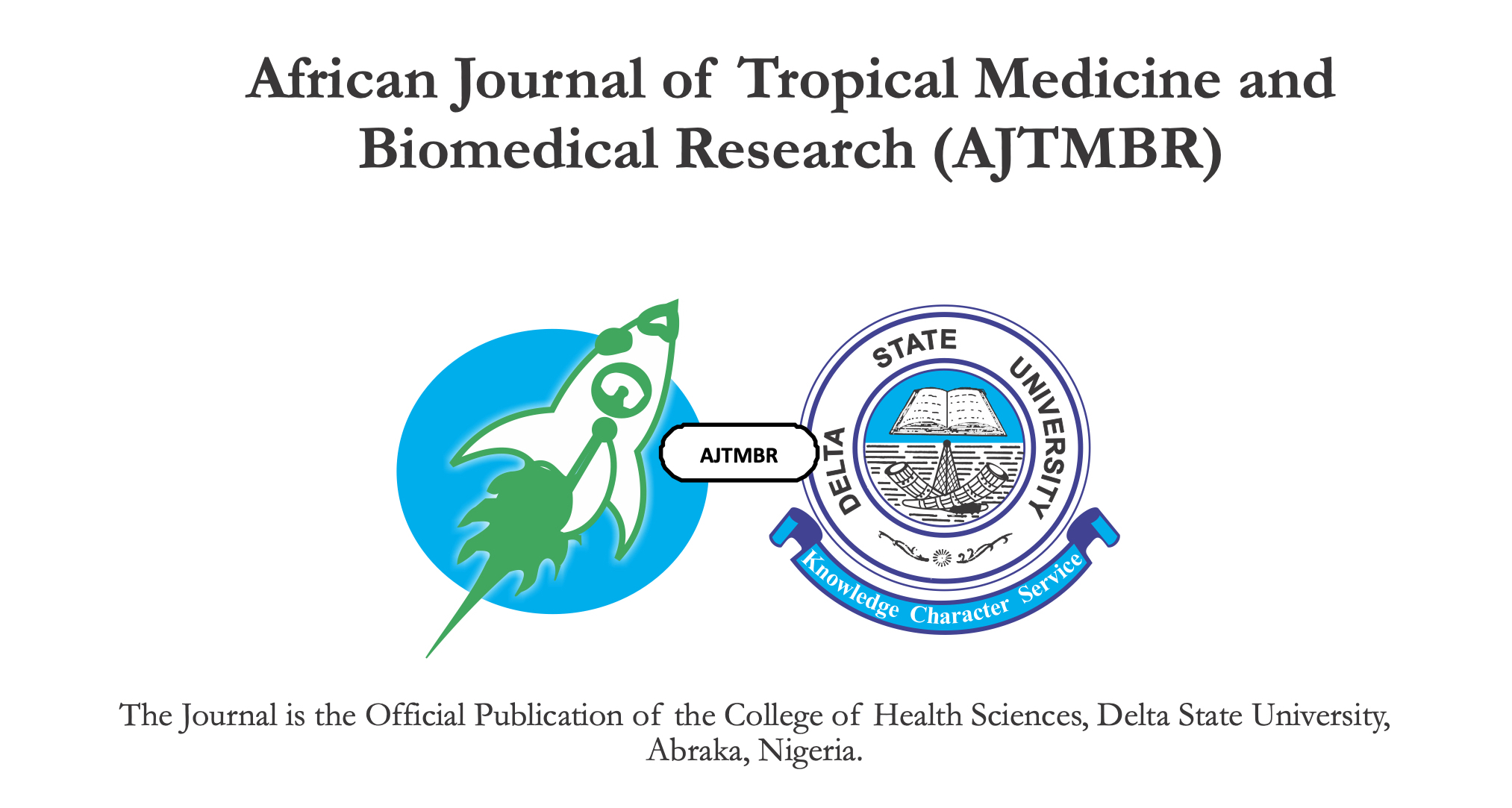 Downloads
How to Cite
1.
Omo-Aghoja L. Male Factor Infertility in Low Resource Settings: Diagnostic and Treatment Barriers. AJTMBR [Internet]. 2015 Mar. 1 [cited 2023 Feb. 3];3(1):6-8. Available from: https://ajtmbr.org.ng/index.php/home/article/view/44
License
This work is licensed under a Creative Commons Attribution-NoDerivatives 4.0 International License.
The data collected from registered and non-registered users of this journal falls within the scope of the standard functioning of peer-reviewed journals. It includes information that makes communication possible for the editorial process; it is used to informs readers about the authorship and editing of content; it enables collecting aggregated data on readership behaviors, as well as tracking geopolitical and social elements of scholarly communication.
This journal's editorial team uses this data to guide its work in publishing and improving this journal. Data that will assist in developing this publishing platform may be shared with its developer Public Knowledge Project in an anonymized and aggregated form, with appropriate exceptions such as article metrics. The data will not be sold by this journal or PKP nor will it be used for purposes other than those stated here. The authors published in this journal are responsible for the human subject data that figures in the research reported here.
Those involved in editing this journal seek to be compliant with industry standards for data privacy, including the European Union's General Data Protection Regulation (GDPR) provision for "data subject rights" that include (a) breach notification; (b) right of access; (c) the right to be forgotten; (d) data portability; and (e) privacy by design. The GDPR also allows for the recognition of "the public interest in the availability of the data," which has a particular saliency for those involved in maintaining, with the greatest integrity possible, the public record of scholarly publishing.