Intensity of Urinary Schistosomiasis and Prevalence of Urinary Tract Pathology Among Primary School Pupils in Delta State, South-south, Nigeria
Keywords:
Urinary schistosomiasis, Urinary tract pathology, Intensity of infection, NELGA
Abstract
Abstract
Background: The urinary tract pathology (UTP) of urinary schistosomiasis is a common complication of the infection caused by inflammatory reactions mainly against the deposited egg antigens around the urinary tract and it is a disease of major public health importance.
Objective: The aim of this study was to determine the correlation between the intensity of urinary schistosomiasis and the prevalence of its UTP among primary school pupils in Ndokwa-East Local Government Area (NELGA) of Delta State, South-south Nigeria.
Method: This study was a cross sectional descriptive study of primary school children aged 5-15 years in Ndokwa-East Local Government Area (NELGA) of Delta State. Urine microscopy was used to identify infected primary school pupils. The intensity of infection was classified using egg count according to World Health Organization (WHO) standard, after which they participated in an ultrasound examination, using WHO guideline for schistosomiasis morbidity.
Result: Among the infected subjects, 87.5% of those with severe infection had bladder wall pathology, while 71.4% of those with mild infection had bladder wall pathology (FET, p-value = 0.613). Additionally, 12.5% of those with severe infection as against 7.1% of those with mild infection had hydroureter (FET, p-value = 1.000), while 37.5% of those with severe infection as against 42.9% of those with mild infection had hydronephrosis (FET, p-value = 1.000).
Conclusion: The prevalence and severity of UTP in this study had no significant relationship with the intensity of infection.
References
Barsoum RS, Esmat G, El-Baz T. Human Schistosomiasis: Clinical Perspective: Review. J Adv Res. 2013;4(5):433-444. doi:10.1016/ j.jare.2013.01.005
A h m e d S H . S ch i s t o s o m i a s i s. I n : Medscape.Com. Available at http://www.emedicine.medscape.com/article22839 2-overview. Accessed 10/11/2016.
King CH. Schistosomiasis. In: Kliegman RM, Behrman RE, Jenson HB, Stanton BF (ed) Nelson Textbook of Pediatrics. 18th Edition. Saunders Elsevier Philadelphia. 2007: 1508-1510.
Tuffour I, Ayi I, Gwira TM, Dumashie E, Ashong Y, Appiah-Opong R. Schistosoma egg antigen induces oncogenic alterations in human prostate cells. Anal Cell Pathol. 2018;Article ID:1-10. doi:10.1155/2018/4675380
Ekwunife CA, Agbor VO, Ozumba AN, Eneanya CI Ukaga CN. Prevalence of urinary schistosomiasis in Iyede-Ame Community and environ in Ndokwa East Local Government Area , Delta State , Nigeria. Niger J Parasitol. 2009;30:27-31.
Schistosomiasis. http://www.cdc.gov/ parasites/schistosomiasis/disease.html.
Richter J, Campange G, Hatz G, Berquist NR, Jenkins JM. Ultrasound in Schistosomiasis: A Practical guide to the standardized use of ultrasonography for the assessment of Schistosomiasis-related Morbidity. World Heal Organ. 1996;55:19-25. doi:10.1111/ j.1365-2893.2009.01252.x
King CH, Keating CE, Muruka JF,Ouma JH, Houser H, Siongok TK, et al. Urinary tract morbidity in schistosomiasis haematobia: Associations with age and intensity of infection in an endemic area of Coast Province, Kenya. Am J Trop Med Hyg. 1988;39:361-368. doi:10.4269/ajtmh.1988.39.361
Onile OS, Awobode HO, Oladele VS, Agunloye AM, Anumudu CI. Detection of urinary tract patholog y in some schistosoma haematobium infected nigerian adults. J Trop Med. 2016;2016. doi:10.1155/2016/5405207
Vester U, Kardorff R, Traoré M, Traore HA, Fongoro S, Juchem C, et al. Urinary tract m o r b i d i t y d u e t o S c h i s t o s o m a haematobium infection in mali. Kidney Int. 1997 ; 52 ( 2 ) : 478 - 481 . doi: 10 . 1038 / ki.1997.356
Ekwunife CA, Okafor FC, Nwaorgu OC. Ultrasonographic screening of urinary schistosomiasis infected patients in Agulu community, Anambra state, southeast Nigeria. Int Arch Med. 2009;2:34. doi:10.1186/1755-7682-2-34
Nmorsi OPG, Ukwandu NCD, Ogoinja S, Blackie HOT, Odike MAC. Urinary tract pathology in Schistosoma haematobium infected rural Nigerians. Southeast Asian J Trop Med Public Health. 2007;38(1):32-37.
Sacko M, Magnussen P, Keita AD, Traore MS, Landoure A, Doucoure A, et al. Impact of Schistosoma haematobium infection on urinary tract pathology, nutritional status and anaemia in school-aged children in two different endemic areas of the Niger River Basin, Mali. Acta Trop. 2011. doi:10.1016/j.actatropica.2010.12.009
Kouriba B, Traore HA, Dabo A, Sangare L, Guindo H, Keita AS, et al. Urinary disease in
Dogon populations with different exposure to Schistosoma haematobium infection: progression of bladder and kidney diseases in children and adults. J Infect Dis. 2005;192:2152-2159. doi:10.1 086/498214
Joseph S, Jones FM, Walter K, Fulford AJ, Kimani G, Mwatha JK, et al. Increases in human T helper 2 cytokine responses to Schistosoma mansoni worm and worm- tegument antigens are induced by treatment with praziquantel. J Infect Dis. 2004;190:835-842. doi:10.1086/422604
Woolhouse MEJ, Hagan P. Seeking the ghost of worms past. Nat Med. 1999:1225-1227. doi:10.1038/15169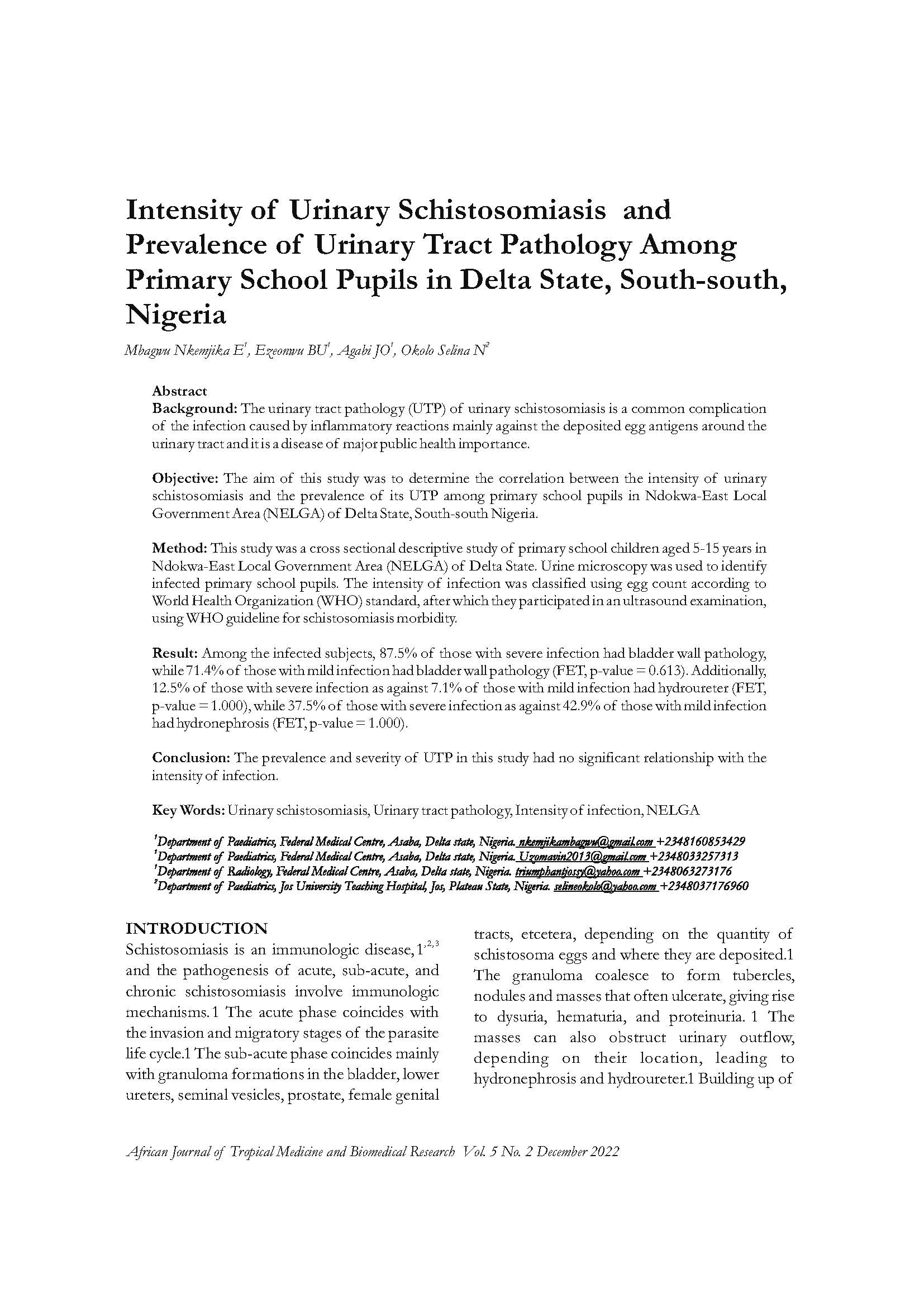 Downloads
How to Cite
1.
Mbagwu N, Uzomavin E, JO A, Okolo Selina. Intensity of Urinary Schistosomiasis and Prevalence of Urinary Tract Pathology Among Primary School Pupils in Delta State, South-south, Nigeria. AJTMBR [Internet]. 2022 Jan. 1 [cited 2023 Oct. 1];5(2):24-9. Available from: https://ajtmbr.org.ng/index.php/home/article/view/79
Section
ORIGINAL ARTICLES
License
Copyright (c) 2022 African Journal of Tropical Medicine and Biomedical Research
This work is licensed under a Creative Commons Attribution-ShareAlike 4.0 International License.
The data collected from registered and non-registered users of this journal falls within the scope of the standard functioning of peer-reviewed journals. It includes information that makes communication possible for the editorial process; it is used to informs readers about the authorship and editing of content; it enables collecting aggregated data on readership behaviors, as well as tracking geopolitical and social elements of scholarly communication.
This journal's editorial team uses this data to guide its work in publishing and improving this journal. Data that will assist in developing this publishing platform may be shared with its developer Public Knowledge Project in an anonymized and aggregated form, with appropriate exceptions such as article metrics. The data will not be sold by this journal or PKP nor will it be used for purposes other than those stated here. The authors published in this journal are responsible for the human subject data that figures in the research reported here.
Those involved in editing this journal seek to be compliant with industry standards for data privacy, including the European Union's General Data Protection Regulation (GDPR) provision for "data subject rights" that include (a) breach notification; (b) right of access; (c) the right to be forgotten; (d) data portability; and (e) privacy by design. The GDPR also allows for the recognition of "the public interest in the availability of the data," which has a particular saliency for those involved in maintaining, with the greatest integrity possible, the public record of scholarly publishing.