Genital and Chest Enteroccocal Infections Complicating Induced Abortion:
A Case Report
Keywords:
induced abortion, genital and chest enterococcal infection
Abstract
Several complications of induced abortion have been reported in the literature. We report a rare case of simultaneous genital and chest enterococcal infections following induced abortion, in a teenager, at 14 weeks gestation.
References
Adetoro OO, Babarinsa AB, Sotiloye OS. Socio-cultural factors in adolescent septic illicit abortions in Ilorin, Nigeria. Afr J Med Sci 1991; 20(2): 149–53.
Unuigbe JA, Oronsaye AU, Orhue AA. Preventable factors in abortion-related maternal mortality in Africa: focus on abortion deaths in Benin City, Nigeria. Trop J Obstet Gynaecol 1988; (1): 36–39.
Ordinioha B, Brisibe S. Clandestine abortion in Port Harcourt: providers' motivation and experiences. Niger J Med 2008; 17(3): 291–5.
World Health Organization. Unsafe abortion, authors. Global and Regional Estimates of the Incidence of Unsafe Abortion and Associated Mortality in 2003. 5th Ed. Geneva: World Health Organization, 2007. Available from: http://www.who.int/reproductivehealt h/publications/unsafeabortion_2003/ua _estimates03.pdf [Last accessed July 12, 2012].
Gaufberg SV. Abortion Complications. Last updated February 5, 2010. Available from: http://www.emedicine.medscape.com/a rticle/7950... [Last accessed July 9, 2012].
Ikechebelu JI, Okoh CC. Morbidity and mortality following induced abortion in Nnewi, Nigeria. Trop Doct 2003; 33(30: 170–2.
Anate M, Awoyemi O, Oyawoye O et al. Procured abortion in Ilorin, Nigeria. East Afr Med J 1995; 72(6): 386–90.
Pritchard JA, Whalley PJ. Abortion complicated by Clostridium perfringens infection. Am J Obstet Gynaecol 1971; 111(4): 484–92.
bin Misiran K. Tetanus after induced abortion-a case report. Med J Malaysia 1990; 45(4): 348–52.
Cherpes TL, Kusne S, Hillier SL. Haemophilus influenza septic abortion. Infect Dis Obstet Gynaecol 2002; 10(3): 161–164.
Momoh ARM, Idonije BO, Okhiai O, Oikhena GA, Omorogbe FIO and Okolo PO. Treponema pallidum septic abortion: a case report. J Microbiol Biotech Res 2011; 1(3): 72–74.
Arias CA, Murray BE. Mechanisms of antibiotic resistance in enterococci. Available from: http://www.uptodate.com/contents/mec hanism... [Last accessed July 11, 2012].
Fraser SL. Enterococcal infections. Updated September 19, 2011. Available from: http://www.emedicine.medscape.com/ar ticle/2169... [Last accessed July 9, 2012].
Sedge G, Henshaw S, Singh S et al. Induced abortion: rates and trends worldwide. Lancet 2007; 370: 1338–1345.
Santamarina BA, Smith SA. Septic abortion and septic shock. Clin Obstet Gynaecol 1973; 47(1): 291–304.
Rotimi VO, Abudu OO. Anaerobes and septic abortion. Afr J Med Med Sci 1986; 15(1-2): 41–7. Abstract
Nys S, Bruinsma N, Filius PMG, Van Den Bogaard AE, Hoffman L, Terporten PHW et al. Microbial drug resistance. Summer 2005; 11(2): 154–8 doi:10.1089/mdr.2005.11.154
McGowan JE Jr. Is antimicrobial resistance in hospital microorganisms related to antibiotic use? Bull NY Acad Med 1987; 63: 253–68.
Cheesbrough M. District Laboratory Practice in Tropical Countries. 2nd edition. Cambridge: Cambridge University Press; 2005.cdc.gov/mmwr/preview/mmwrht ml/0000130.htm
Maluf NS. On the enlargement of the normal congenitally solitary kidney. B J Urol. 1997; 79: 836-841
Hill LM, Nowak A, Hartle R, Tush B. Fetal compensatory renal hypertrophy with a unilateral functioning kidney. Ultrsound Obstet Gynecol. 2000; 15: 191-193
Sharp DA, Rose JH. Attitude of Pediatrc urologists regarding sports participation by children with solitary kidney. Journal of Urology 2002; 168(4): 1811-1815
Karen Psooy. Sports and solitary kidney: what parents with a young child with a solitary kidney should know. Canadian Urol Assoc J 2009; 3 (1): 67-68
Grinsell MM et al. Single kidney and sports participation: Perception versus reality. Pediatr 2006; 118: 1019-1027
Argueso LR, Ritcyey ML, Boyle ET Jnr, Milliner DS, Bergstraih EJ, Kramer SA. Prognosis of patients with unilateral renal agenesis. Pediatr Nphrol. 1992; 6 : 412-416
Gonzalez E, Gutierrez E, Morales et al. Factors influencing the progression of renal damage in patients with unilateral renal agenesis and remnant kidney. Kidney Int. 2005; 68: 263-270
Valentini RP, Langenburg S, Imam A, Matto IK, Zerin JM. MRI Detection of atrophic kidney in a hypertensive child with single kidney. Pediatr Nephrol 2005; 20(8): 1192-1194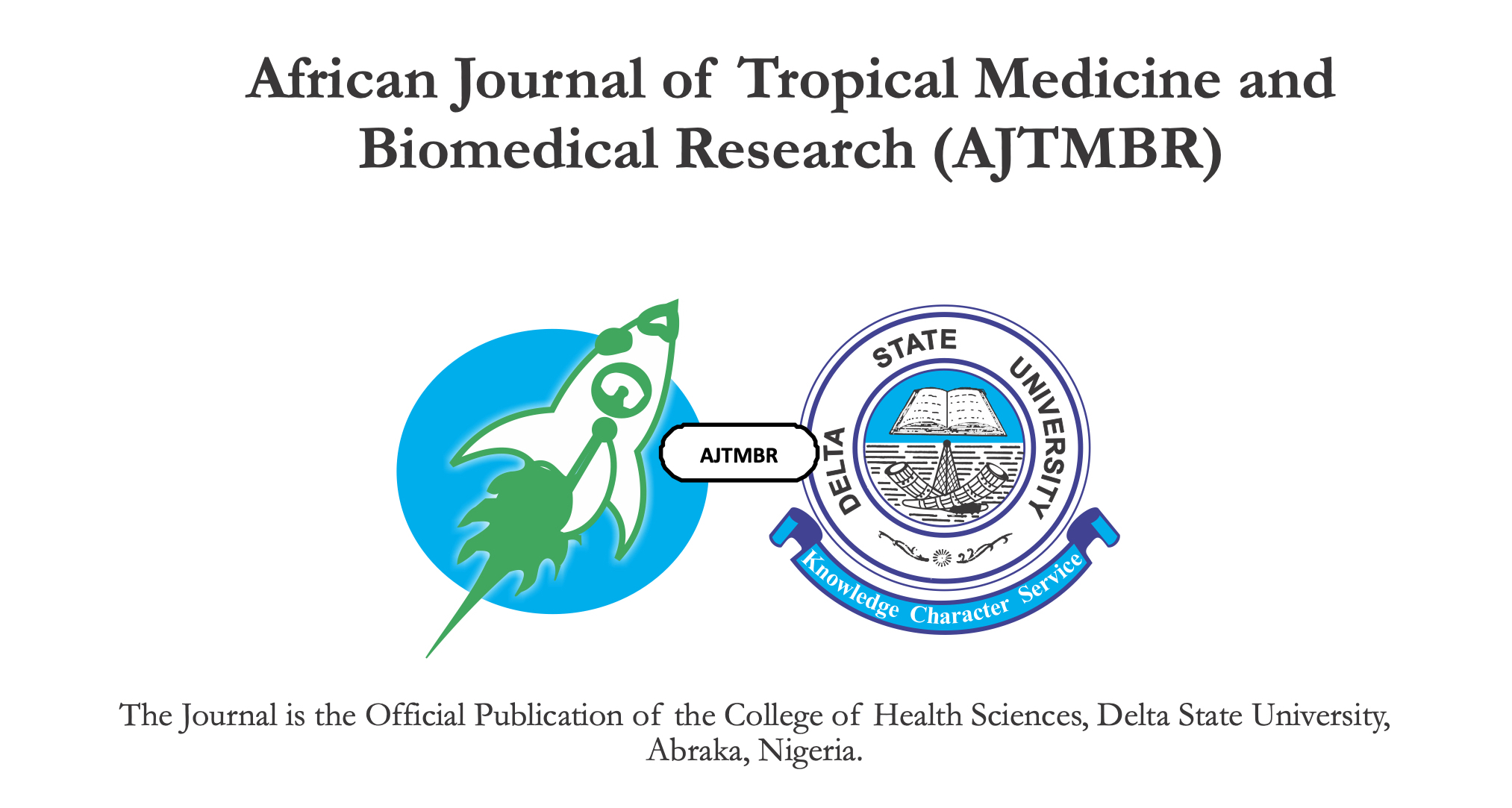 Downloads
How to Cite
1.
ENARUNA NO, Lofor P, Aziken M. Genital and Chest Enteroccocal Infections Complicating Induced Abortion: : A Case Report. AJTMBR [Internet]. 2012 Sep. 1 [cited 2023 Mar. 24];1(4):104-9. Available from: https://ajtmbr.org.ng/index.php/home/article/view/34
License
This work is licensed under a Creative Commons Attribution-NoDerivatives 4.0 International License.
The data collected from registered and non-registered users of this journal falls within the scope of the standard functioning of peer-reviewed journals. It includes information that makes communication possible for the editorial process; it is used to informs readers about the authorship and editing of content; it enables collecting aggregated data on readership behaviors, as well as tracking geopolitical and social elements of scholarly communication.
This journal's editorial team uses this data to guide its work in publishing and improving this journal. Data that will assist in developing this publishing platform may be shared with its developer Public Knowledge Project in an anonymized and aggregated form, with appropriate exceptions such as article metrics. The data will not be sold by this journal or PKP nor will it be used for purposes other than those stated here. The authors published in this journal are responsible for the human subject data that figures in the research reported here.
Those involved in editing this journal seek to be compliant with industry standards for data privacy, including the European Union's General Data Protection Regulation (GDPR) provision for "data subject rights" that include (a) breach notification; (b) right of access; (c) the right to be forgotten; (d) data portability; and (e) privacy by design. The GDPR also allows for the recognition of "the public interest in the availability of the data," which has a particular saliency for those involved in maintaining, with the greatest integrity possible, the public record of scholarly publishing.