Knowledge, Attitude and Practice of Contraception among Abortion Seekers in Benin City
Keywords:
Induced abortion, contraception
Abstract
Background. In Nigeria, 12% of pregnancies end in induced abortion amounting to over 610,000 induced abortions annually, with a ratio of 25 per 1000 women of reproductive age. Majority of these abortions are unsafe. Effective contraception would no doubt prevent most unwanted pregnancies and the consequences of unsafe abortions.
Aim. To assess the knowledge, attitude and practice of contraception among abortion seekers in Benin City and to propose ways of improving knowledge and utilization of contraception, in order to prevent unwanted pregnancies. 
Methodology: Cross-sectional questionnaire based survey of abortion seekers in selected clinics in Benin City from January1-June30 2006.
Results: A total of 423 women who sought abortion were interviewed. Majority (52.2%) were within the 21 – 25 age range. Majority of the women were single (82.3%), Christians (95.3%) and had secondary education (48.9%). Most of the women sought abortion on the ground that they were schooling (35.2%) or single (32.2%) while 16.8% believed abortion was a method of contraception A significant proportion (65.7%) of the women were aware of a modern method of contraception and 50.1% had ever used a modern method of contraception but only 35.9% were currently using a modern method of contraception. Post-abortion counselling did not seem to improve uptake of contraception.
Conclusion and Recommendation.
This study showed that the majority of abortion seekers in Benin City are youths and they do so because they are not ready for motherhood and although they have fair knowledge of contraception, the majority were not practicing contraception at the time of the study. There is an urgent need to step up contraceptive counseling skill for health workers for effective dissemination of information on contraception. There is need to overhaul the family health education system, including the integration of Planned Parenthood into health care delivery system at the primary health care level.
References
Okonofua FE. Abortion. In: Okonofua FE, Odunsi K (Eds). Contemporary obstetrics and gynaecology for developing countries, 1st edition. WHARC, 2003; 179- 201.
Henshaw SK, Singh S, Oye-Adeniran BA, Adewole IF, Iwere N, Cuca YP. The Incidence of Induced Abortion in Nigeria. International Family Planning Perspectives, 1998; 24:156-164.
Fredrick B, Kirchgaessner C. Unsafe Abortion Common in Nigeria According to New Study by American and Nigerian Researchers. The Alan Guttmacher Institute News Release, 1998; 212: 248- 1111
Raufu A. Unsafe abortions cause 20000 deaths a year in Nigeria. BMJ 2002(2 November);325:988
Warriner I. Use of emergency contraceptive pills could halve the induced abortion rate in Shanghai, China. Social Science Policy Briefs. Series 2 No. 1. HRP 2005
International Women's Health Coalition. Finding Common Ground in the Debate over Unsafe Abortion: The Nigerian Campaign Against Unwanted Pregnancy. IWHC, 2004.
Olukoya AA. Pregnancy termination: Result of a community based study in Lagos. Int J Gynaecol Obstet, 1987; 25: 4 – 46.
Kwame-Aryee RA, Seffah JD (Eds). Introductiontocontraception. Handbook of Gynaecology, 1st edition. Bel-Team Publications Ltd, 1998; 153-154.
Emuveyan EE. Advances in contraception. In: Kwawukume EY, Emuveyan EE (Eds). Comprehensive Gynaecology in the Tropics, 1st edition. Graphic PackagingLimited, 2005; 233-241.
Cenameri S, Ezcurra E. Emergency Contraception in Adolescents: 8th Postgraduate Course for Training in Reproductive Medicine and Reproductive Biology. Aldo Campana (Ed). Geneva Foundation for Medical Education and Research, 2003.
Okonofua FE. Factors associated with youth and adolescent pregnancy in rural Nigeria. Journal of Youth and Adolescents, 1995; 24:419-438.
Odujirin OMT. Sexual activity, contraceptive practice and abortion among adolescents in Lagos, Nigeria. International Journal of Gynaecology and Obstetrics 1991; 34:361-366.
Otoide VO, Oronsaye F, Okonofua FE. Why Nigerian Adolescents Seek Abortion Rather than Contraception: Evidence from Focus-Group Discussions. International Family Planning Perspectives, 2001, 27(2): 77-81
Arowojolu AO, Adenkunle AO. Perception and practice in emergency contraception by post secondary students in South West Nigeria. African Journal of Reproductive Health, 2000; 4:56-65.
Okpani AOU, Okpani JU. Sexual activity and contraceptive use among female adolescents: a report from Port Harcourt, Nigeria. African Journal of Reproductive Health, 2000; 4:40-47.
Little P, Griffin S, Dickson N, Sadler C. Unwanted pregnancy and contraceptive knowledge: identifying vulnerable groups from a randomized controlled trial of educational interventions. Family Practice, 2001; 18(4): 449-453
Aziken ME, Okonta PI, Ande ABA. Knowledge and perception of emergency contraception among female Nigerian undergraduates. International Family Planning Perspectives, 2003; 29:84-87.
Oye-Adeniran BA, Adewole IF, Odeyemi KA, Ekanem EE, Umoh AV. Contraceptive prevalence among young women in Nigeria. J Obstet Gynaecol, February 2005; 25(2): 182 – 185.
Oye-Adeniran BA, Adewole IF, Umoh AV, et al. Sources of contraceptive commodities for users in Nigeria. PloS Medicine, 2005; 2(11): 0001 – 0007.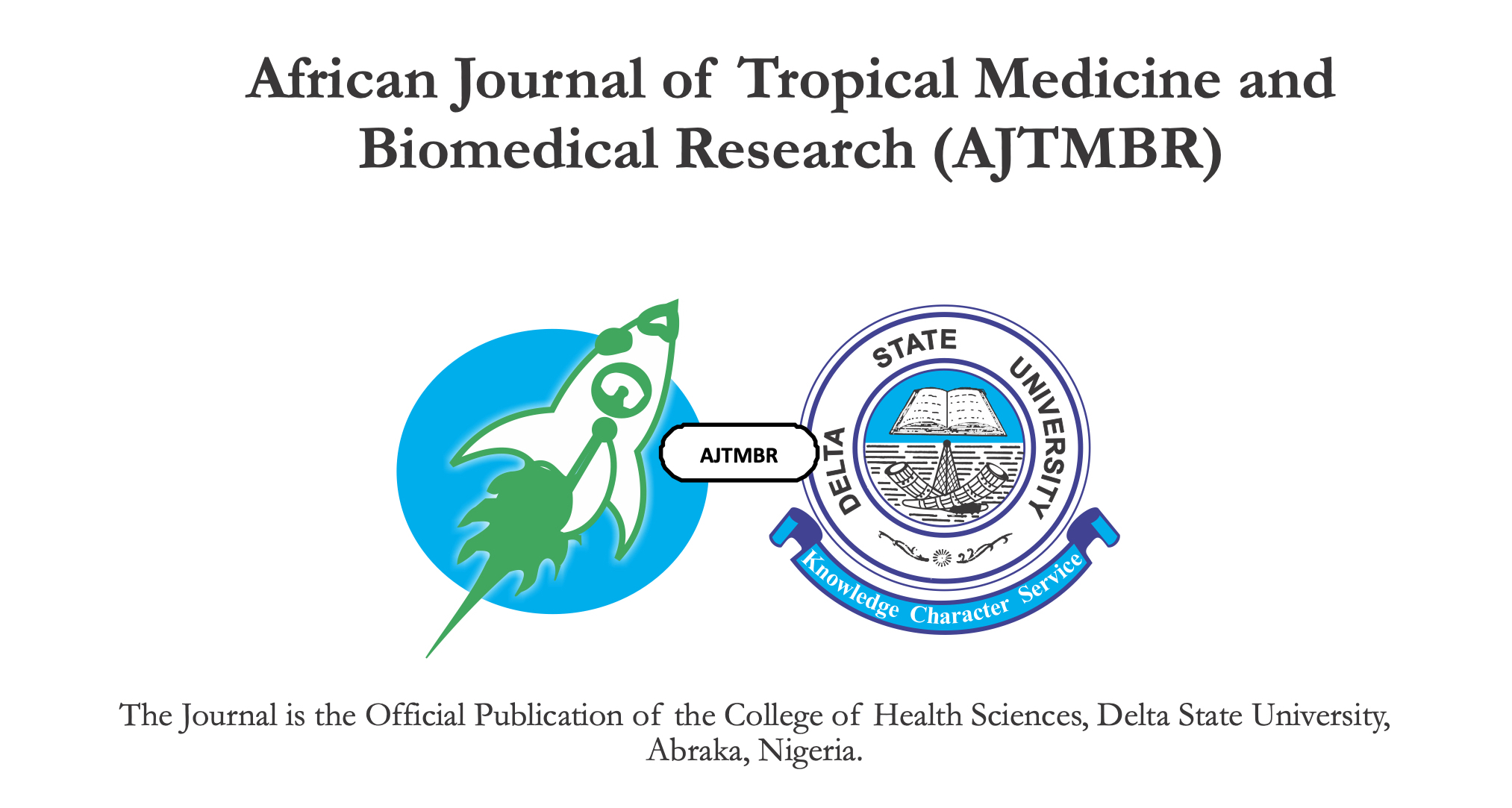 Downloads
How to Cite
1.
Michael E A, Kenneth O A, PA O, Adedapo BA A. Knowledge, Attitude and Practice of Contraception among Abortion Seekers in Benin City. AJTMBR [Internet]. 2020 Oct. 31 [cited 2023 Oct. 1];1(1):11-2. Available from: https://ajtmbr.org.ng/index.php/home/article/view/3
Section
ORIGINAL ARTICLES
License
This work is licensed under a Creative Commons Attribution-NoDerivatives 4.0 International License.
The data collected from registered and non-registered users of this journal falls within the scope of the standard functioning of peer-reviewed journals. It includes information that makes communication possible for the editorial process; it is used to informs readers about the authorship and editing of content; it enables collecting aggregated data on readership behaviors, as well as tracking geopolitical and social elements of scholarly communication.
This journal's editorial team uses this data to guide its work in publishing and improving this journal. Data that will assist in developing this publishing platform may be shared with its developer Public Knowledge Project in an anonymized and aggregated form, with appropriate exceptions such as article metrics. The data will not be sold by this journal or PKP nor will it be used for purposes other than those stated here. The authors published in this journal are responsible for the human subject data that figures in the research reported here.
Those involved in editing this journal seek to be compliant with industry standards for data privacy, including the European Union's General Data Protection Regulation (GDPR) provision for "data subject rights" that include (a) breach notification; (b) right of access; (c) the right to be forgotten; (d) data portability; and (e) privacy by design. The GDPR also allows for the recognition of "the public interest in the availability of the data," which has a particular saliency for those involved in maintaining, with the greatest integrity possible, the public record of scholarly publishing.