Clinical Profile and Outcome of Adult Tetanus in Oghara, Delta State
Keywords:
Clinical profile, Tetanus
Abstract
Background: Tetanus persists to be a global problem due to either failed immunization or poor  coverage of many inaccessible populations in both developing and developed societies.  Mortality is higher in the developing world with poorly organized health systems. Aim: To report the clinical profile and outcome of tetanus admissions in Delta State University  Teaching Hospital , Og h a r a , between June 2010 and April 2015 . 
Methods: The records of all patients managed for tetanus on the medical wards and the  intensive care unit of the hospital were studied. 
Results: Twenty-seven patients comprising 21(77.8%) males and 6 (22.2%) females were  diagnosed and managed for tetanus during the period under review. The mean age of the  patients was 34.07±1.50 years.The patients were largely of low socioeconomic group. Lower  extremity wounds and lesions was the commonest portal of entry,74.1%. The overall case  fatality rate (CFR) was 37%. Among those managed in the intensive care unit the case fatality  was 50%. The factors significantly associated with increased mortality include short incubation  period (p =0.009 ), short onset time (p = 0.001), severity of the disease (p = 0.014) and  increasing age (p = 0.03). The commonest complications recorded in this study were laryngeal  and pharyngeal spasms, aspiration pneumonia and autonomic dysfunction.  
Conclusion: Tetanus is a life-threatening disease with high case fatality that is still a health  challenge in our environment. There is a need to provide better vaccination coverage for all  including booster doses for adult males and to improve on medical intensive care facilities and  training.  
References
Centers for Disease Control and Prevention. Tetanus. In W Atkinson et al., eds. Epidemiology and Prevention of Vaccine-Preventable Diseases, 12th ed., Washington, DC: Public Health Foundation. 2011, pp. 291300.
Feingold SM. Tetanus. In: Collier L, Balows A, Sussman M, eds. Topley & Wilson's Microbiology and Microbial Infections. 9th ed. New York: Oxford University Press, 1998: 694722.
Gill DM. Bacterial toxins: a table of lethal amounts. Microbiol Rev 1982; 46: 8694. 4. Schiavo G, Matteoli M, Montecucco C.
Neurotoxins affecting neuroexocytosis. Physiol Rev 2000; 80: 717766.
Ablett JJL. Analysis and main experiences in 82 patients treated in the Leeds Tetanus Unit. In: Ellis M, editor. Symposium on tetanus in Great Britain. Boston Spa, UK: Leeds General Infirmary; 1967. p. 1-10.
Chukwubike OA, God'spower AE. A 10- year review of outcome of management of tetanus in adults at a Nigerian tertiary hospital. Ann Afr Med 2009;8: 168-172.
Fawibe AE. The Pattern and Outcome of Adult Tetanus at a Sub-urban Tertiary Hospital in Nigeria Journal of the College of Physicians and Surgeons Pakistan 2010, Vol. 20 (1): 68-70
Owolabi LF, Aliyu I, Nagoda, M et al. Clinical profile and outcome of adult tetanus in Kano. Sahel Medical Journal, 2010, Vol 13, (4): 67-68. Http://dx.doi.org-/10.4314/-
smj2.v13i4.67508
Tadessa A, Gebre-Selassie S. Five year review of cases of adult tetanus management at Gondar University Hospital, North West Ethiopia (Gondar, Sept.2003-Aug 2008). Ethiop Med. J. Oct 2009; 47(4): 291-7.
Onwu e kwe IO, Nwa b u e z e AC. Experience with tetanus in a tertiary hospital in the South East Nigeria. Nigerian Journal of Medicine journal of Resident doctors of Nigeria. April 2008; 17(1): 50-52
Komolafe MA, Komolafe EO, Oqundere AO. Pattern and outcome of adult tetanus in Ile-Ife, Nigeria, Niger J. Clinical. Practice. Dec 2007; 10 (4): 300-3.
Adeuja AOG, Osuntokun BO. Tetanus in the adult Nigerians. A review of 503 patients . East . Africa Med., 1971; 4(12): 683-691
Amanuel A, Yilma M, Desalar M. Tetanus in adults : clinical presentation, treatment and mortality in Ethiopia. Journal of Neurological sciences. Mar 2012; 317(1-2): 62-65
Sinha A, Seth BC, Ali MH, Mondal K, Bhattacharya R .Study of Clinical Profile of Tetanus Patients at ID & BG Hospital, Kolkata. National Journal of Medical and Allied Sciences 2014; 3(2):4-8
Ojini FI, Danesi MA Mortality of tetanus at the Lagos University Teaching Hospital, Nigeria. Top Doct,2005 Jul;35(3):178-11
Arogudade FA Bello IS, Kuteyi EA, AkinsolaA. Patterns of presentation and mort a lit y in t e t anus: a 10- y e a r retrospective review. Niger Postgrad Med J. 2004 Mar 11(1); 58-63
Centers for Disease Control and Prevention. Advisory Committee on Immuni z a tion Pr a c ti c e s (ACIP) Recommended Immunization Schedules for Persons Aged 0 Through18 Years and Adults Aged 19 Years and Older. United States, 2013. MMWR. 2013;62(Suppl 1):1- 19.
Orimadegwu AE, Adepoju AA, Akinyinka OO .Prevalence and social demographic factors associated with non-protective
immunity against tetanus among high school adolescent girls in Nigeria. Ital J. Paediatr 2014 , Mar 17; 40(1): 29-32 . do; .10.118/1824-7288-40-29
Ogunrin OA, Unuigbe EI Tetanus: an analysis of prognosticating factors of cases admitted into the medical wards of a tertiary hospital in a developing African country between 1990 and 2000. Niger Postgrad Med J, 2004 Jun;11(2):9-102
Sanya EOI, Taiwo SS, Olarinoye et al. A 12-year review of cases of adult tetanus managed at the University College Hospital, Ibadan, Nigeria. Trop Doct. 2007 Jul;37(3):170-173.
Anuradha S. Tetanus in adults, a continuing problem: Analysis of 217 patients over 3 years from Delhi, India, with special emphasis on predictors of mortality. Med J Malaysia. 2006 Mar;61(1):7-14.
Bardenheier B, Prevots DR, Khetsuriani N et al. Tetanus surveillance- united States, 1995-1997: Morbidity and Mortality Weekly Report; 1998. Report No. 47: p. 1-13.
Brauner JS, Vieira SR, Bleck TP. Changes in severe accidental tetanus mortality in the ICU during two decades in Brazil. Intensive Care Med 2002; 28: 93035.
Thwaites CL, Yen LM, Nga NT, et al. Impact of improved vaccination programme and intensive care facilities on incidence and outcome of tetanus in southern Vietnam, 19932002. Trans R Soc Trop Med Hyg 2004; 98: 67177.
Salimpour R. Tetanus of the newborn in Tehran. A ten year study of 880 cases. J Trop Pediatr Environ Child Health 1978; 24: 14042.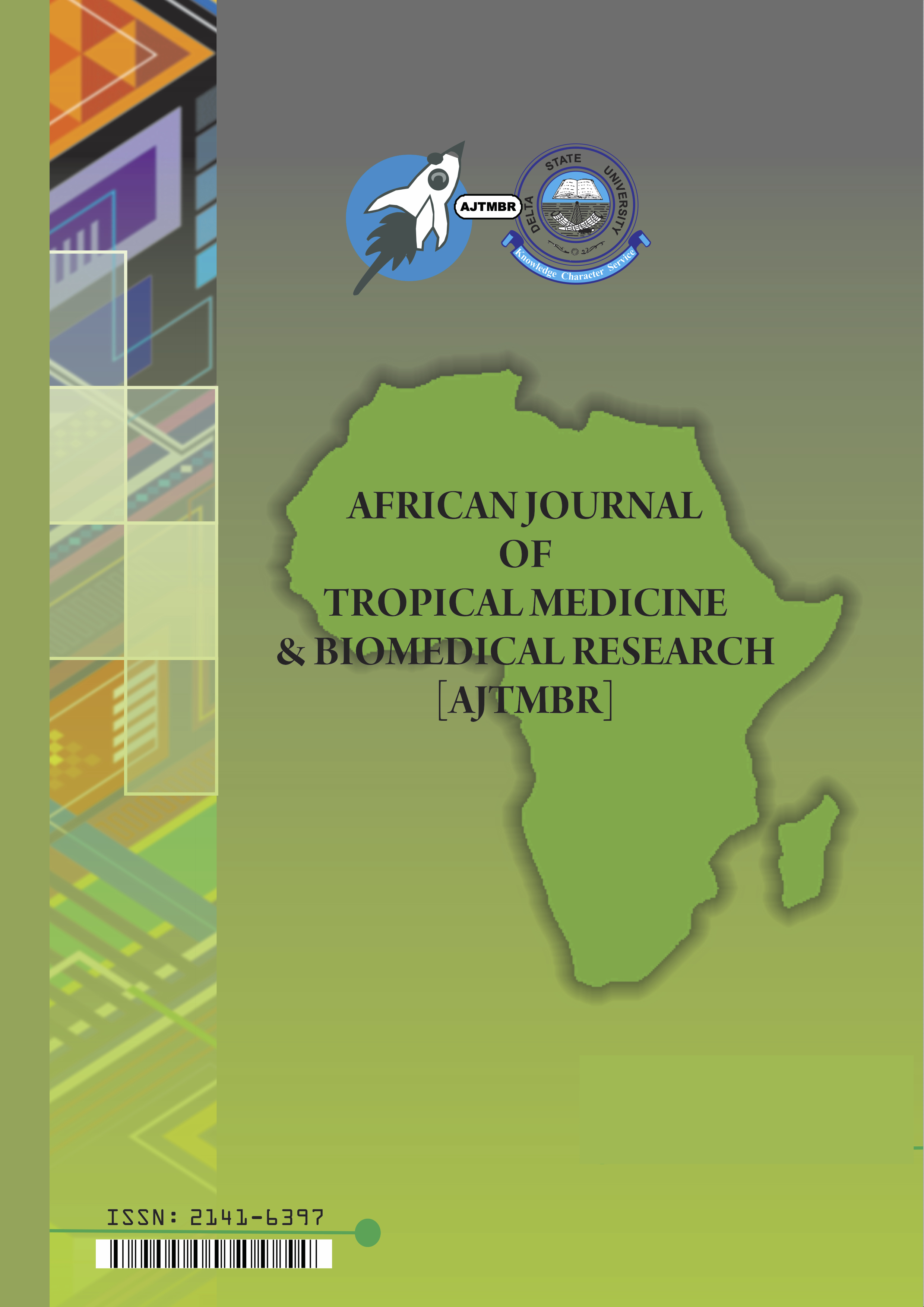 Downloads
How to Cite
1.
Obiabo Y. Clinical Profile and Outcome of Adult Tetanus in Oghara, Delta State. AJTMBR [Internet]. 2015 Mar. 1 [cited 2023 Dec. 8];3(1):21-7. Available from: https://ajtmbr.org.ng/index.php/home/article/view/47
Section
ORIGINAL ARTICLES
License
This work is licensed under a Creative Commons Attribution-NoDerivatives 4.0 International License.
The data collected from registered and non-registered users of this journal falls within the scope of the standard functioning of peer-reviewed journals. It includes information that makes communication possible for the editorial process; it is used to informs readers about the authorship and editing of content; it enables collecting aggregated data on readership behaviors, as well as tracking geopolitical and social elements of scholarly communication.
This journal's editorial team uses this data to guide its work in publishing and improving this journal. Data that will assist in developing this publishing platform may be shared with its developer Public Knowledge Project in an anonymized and aggregated form, with appropriate exceptions such as article metrics. The data will not be sold by this journal or PKP nor will it be used for purposes other than those stated here. The authors published in this journal are responsible for the human subject data that figures in the research reported here.
Those involved in editing this journal seek to be compliant with industry standards for data privacy, including the European Union's General Data Protection Regulation (GDPR) provision for "data subject rights" that include (a) breach notification; (b) right of access; (c) the right to be forgotten; (d) data portability; and (e) privacy by design. The GDPR also allows for the recognition of "the public interest in the availability of the data," which has a particular saliency for those involved in maintaining, with the greatest integrity possible, the public record of scholarly publishing.